Graham Reid | | 4 min read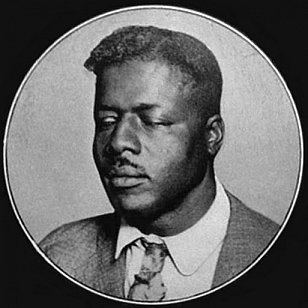 The old saying, "You gotta sin to get saved" perhaps accounts for the wayward careers and emotional U-turns of people like Little Richard and Roy Buchanan who would vacillate between the secular and spiritual worlds.
If you believe that Jesus is real and your savior, then you are just as likely to have to accept the corollary, that Satan is also real and ready to drag you to Hell.
That latter fear must be hard to live with, and perhaps drive you further into the house of your Lord.
But not all redemption music has to be happy-clappy gospel as the religious songs of Nick Cave and Buchanan's glorious The Messiah Will Come Again prove.
One of the great spiritual bluesmen Blind Willie Johnson – born somewhere in Texas in 1897 – had a voice which sometimes sounded like sandpaper scraping the bottom of a whisky barrel, and when placed alongside his superb bottleneck guitar playing it could have an eerie quality.
Sometimes he adopted a more sympathetic sound (Bye and Bye I'm Gonna See a King recorded in 1927).
But it is his songs of the impending divine judgment being meted out on Mankind that are his most powerful: Jesus is Coming Soon seems to have been prompted by the great influenza epidemic on '27 which Johnson read as some might consider the fatalism and apocalypse in the Book of Revelations, and God Moves on the Water similarly uses the sinking of the Titanic ('29) as a warning to Man for his arrogance and pride.
Sometimes the judgment is personal, as on Nobody's Fault But Mine (recorded at his first session in '27) which has become something of a blues standard and adopted by, among many others, Led Zeppelin.
In fact, quite a number of the songs Johnson recorded have been picked up by the wider musical culture: Among them Your Gonna Need Somebody on Your Bond, Mother's Children Have a Hard Time (aka Motherless Children) and John the Revelator have all been interpreted by Buffy Sainte-Marie, Donovan and Captain Beefheart, Bob Dylan and Lucinda Williams, and Beck, Nick Cave and Gillian Welch respectively.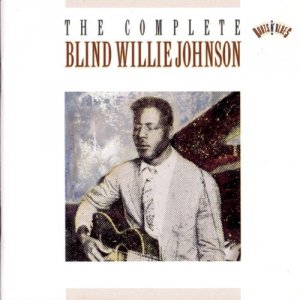 Dylan adapted Johnson's Jesus make Up My Dying Bed into In My Time of Dying on his debut album.
In his lifetime — he died in '45 aged 48 – Johnson only recorded 29 songs, but the power of his delivery and the faith that was embedded in them make them compelling. And of course there is that voice.
Over the years there have a been a few compilations of his songs, notably the double disc The Complete Blind Willie Johnson in '93 on the Columbia Legacy Roots'n'Blues imprint.
But before that was the excellent single album Praise God I'm Satisfied on the Yazoo label with typically informative (if now superseded) notes by Steve Calt.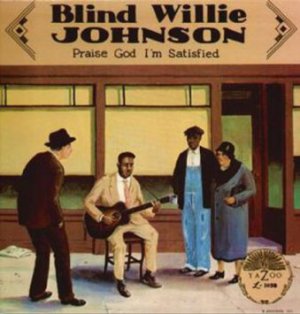 Yazoo did an excellent job in retrieving and reviving the music of many blues artist (see here) and this album was given a vinyl reissue two years ago along with another Johnson album on Yazoo, Sweeter As the Years Go By.
At the same time the Rough Guide series added a double disc of Johnson's songs in their Rough Guide to the Blues series.
Johnson wasn't born blind and there are various stories about how that came to be, but by the time he was seven he was sightless and — having announced at five he wanted to be a preacher — he took to playing a primitive guitar made from a cigar box which father made for him.
In the Twenties he was a street singer whose repertoire included gospel-blues songs of death, faith and redemption, all themes with wide appeal for the poor and faithful in those hard times.
One unconfirmed story has him being arrested outside a courthouse in New Orleans for singing the Samson and Delilah song If I Had My Way I'd Tear The Building Down.
But so much of his life is lost in legend and myth and conflicting stories. He left few footprints (no marriage certificates although he seems to have two and perhaps three wives) and his grave in Beaumont, Texas is lost.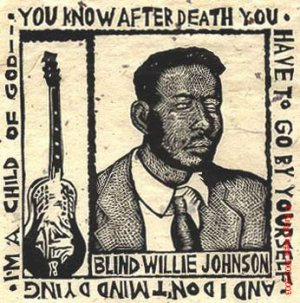 But in many ways that hardly matters because Johnson sounds as if he comes from another, more mysterious world than this.
When he rasps through I Know His Blood Can Make Me Whole, or Dark Was the Night Cold Was the Ground (covered by everyone from the Soul Stirrers which at one time included Sam Cook and Fairport Convention to the Kronos Quartet) Johnson's music goes beyond time . . . and space.
In '77 Dark Was the Night Cold Was the Ground – the sound of which Ry Cooder based his Paris, Texas soundtrack on — was one of the tracks chosen for an album which went aboard Voyager 1.
Somewhere in the deepest — and most distant from Earth – region of the cosmos Voyager 1 is still blinking its way onward, and carrying the voice and beliefs of Blind Willie Johnson into the endless unknown.
This article was prompted by the vinyl compilation Praise God I'm Satisfied mentioned above being in a box of wonderful old vinyl sent to me by an Elsewhere subscriber. Thank you Joeke, I am working my way through the pile and more such articles or songs From the Vaults will appear because of your generous gifts at Elsewhere in the near future. We've already featured others.