Graham Reid | | 4 min read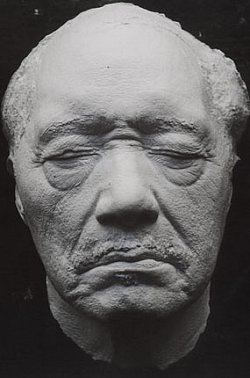 For many decades before his career was given a high-profile resurrection by the Fat Possum label in Nineties (and he toured with the likes of the Jon Spencer Blues Explosion), R.L. Burnside was a working bluesman who had grown up in North Mississippi and followed the trail to Chicago.
In Mississippi he'd heard Fred McDowell (who reputedly taught him a little guitar), and fife and drum bands in the Thirties when he growing up.
"[McDowell] was a big influence on me," he told Perfect Sound Forever in late '99. "He started me. I watched him and he was the first guy I saw play the blues. We didn't live over half a mile from him at one time.
"And then, for ten or twelve years we lived about a mile and a half to two miles from him. We'd be going to gin some cotton with my grandaddy and we'd be coming back in the middle of the night or in the evening and we'd stop by there and listen to Fred.
"When I got up to where I could play I'd go out with him on Saturday nights at them house parties, ya know."
And in Chicago in the late Forties and early Fifties he saw Muddy Waters (then married to his Burnside's cousin), Little Walter and Eddie Boyd.
"I'd go over to [Waters'] house about every other night. We worked at the same place, over at the Howard's Foundry and I'd go over at his house about every other night and listen to him play. There was a place there in Chicago where they called the Zanzibar he played on Friday nights, ya know. And I go up there with him to play every Friday night. Sunday we'd go down on Mackerel Street, you know, where a lot of blues players was at. I'd get to listen to them."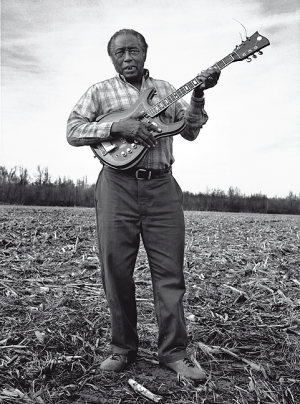 This Chicago experience was a relatively uncommon musical education for a Mississippi musician at a time when so many just stayed around their home patch, and at that time Burnside wasn't even playing much himself.
By the mid Fifties, Burnside was back in Mississippi after learning the cost of big city life in the North: in a single year his father, two brothers and two uncles were murdered.
Burnside found himself on the other side of the ledger because he was accused of killing a man and spent time in Parchman Farm prison.
"I didn't mean to kill nobody, " he said. "I just meant to shoot the sonofabitch in the head. Him dying was between him and the Lord."
On release he continued to work day jobs but then began playing at house parties and hooking up with local musicians. His sound had become distinctive as he had incorporated influences from Muddy Waters, John Lee Hooker, Howling Wolf, Robert Lockwood Jnr and Lightnin' Hopkins.
Out of this varied clay he began to shape his own rough, acoustic sound and in the late Sixties recorded a few sides for Arhoolie Records. The songs he recorded for Adelphi not long after went unreleased for 30 years, not until he'd found fame as a Fat Possum star.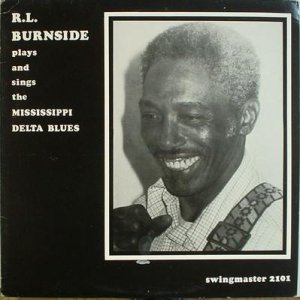 But his reputation was enough that he could play in Canada and Europe, and in the late Seventies began a series of recordings in Groningen, Holland for the Swingmaster label.
On one of those albums — his debut solo recordings released as R.L. Burnside Plays and Sings the Mississippi Delta Blues -- the 12 song are all credited as "trad/arr by R.L. Burnside" but among them are Rolling and Tumbling, Bad Luck and Trouble and Sweet Black Angel, all of which had by that time become familiar to rock audiences thanks to versions by Cream, Clapton and the Rolling Stones.
Around this time — the early Eighties – he decided to quit running his cafe back home and stop doing casual farm labour and get more serious about a music career.
He was nearly 50 at the time but had been encouraged by interest from European labels, some of whom he'd also recorded for as a solo artist.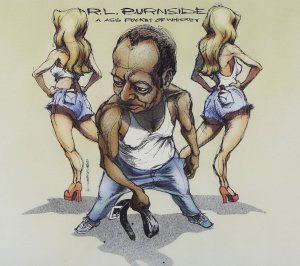 He became a touring artist (Europe, around the US) and his reputation grew steadily, but it wasn't until he was picked up by Fat Possum, along with his pal Junior Kimbrough, that things really started to hapen.
He appeared in the doco Deep Blues (directed by blues researcher Robert Palmer) and by the time Spencer hooked up with him for the album A Ass Pocket of Whiskey -- recorded with the Blues Explosion in just four hours -- Burnside had become very well known on the blues-and-beyond circuit.
His Fat Possum albums all sold well (for blues albums) but his new audience often only heard him in this electric and often remixed context where Burnside's sound was either amped up or sometimes incidental.
Ironically then it was his live album Burnside on Burnside where his true voice came through with clarity, and was nominated for a Grammy.
Burnside died in September 2005, he was 78. Among his many children is Duwayne, guitarist with North Mississippi Allstars. And others who use his name.
In 2014 he was inducted into the Blues Hall of Fame in Memphis.
His Fat Possum albums — as with those by T-Model Ford and Kimbrough on the label — are terrific, but there's also something to recommend his much earlier and more earthy albums.
As a guitarist Burnside didn't stretch too far in those days — there's a repetitive characteristic evident (some identify it as a Delta drone) and a simple bass line hold everything in place — but his voice can be rich and expressive, and in songs like Death Bells you can hear the clear influence of Lightnin' Hopkins.
The blues has always been about borrowing, adopting and adapting.
And Robert Lee Burnside did all that, in the unforgiving farmland of the South and tough inner city Chicago . . . and then back at home before taking his distinctive style to the world . . . and into the 21st century through remixes.
This article was prompted by the record RL Burnside Plays and Sings the Mississippi Delta Blues mentioned above being in a box of wonderful old vinyl sent to me by an Elsewhere subscriber. Thank you Joeke, I am working my way through the pile and more such articles or songs From the Vaults will appear because of your generous gifts at Elsewhere in the near future. We've already featured others.