Graham Reid | | 1 min read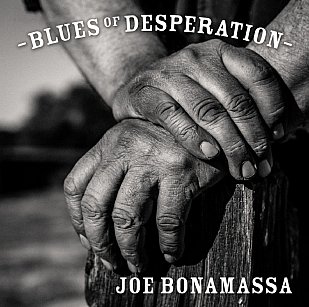 Despite commercial success and enthusiastic audiences at his shows, bluesman Bonamassa is also a divisive figure: many blues guitarists for example see him only as a sum of his considerable influences and not adding much originality. However he was also recently voted best blues guitarist by Guitar World so . . .
That former opinion however was confirmed by the second, electric, half of his show in Auckland in late 2014.
But -- in an idiom born on borrowing, referencing and outright theft -- there is an irony when you accuse any blues artist of referring to the autograph styles of others.
So all that conceded, many of his studio albums are actually nailhard blowtorch outings which are best enjoyed at full volume, even if his originals sometimes lack the grip of the masters -- from old black bluesmen out of the Delta to post-Zepp figures -- and are frequently vehicles for his often furious guitar playing.
This new one is, astonishingly, his 17th and -- as has been the case previously, and in concert -- it is when he turns down the volume and explores more low range intensity that this is at its most effective. For example Drive here is a broody piece which takes you out to the swamp and the desert simultaneously courtesy of its moody and mysterious qualities.
On The Valley Runs Low he explores a more acoustic Americana style, a little like John Fogerty but with some well-placed gospel-style backing vocals.
That said however, between them is the eight minute-plus No Good Place for the Lonely which -- despite alluding to sound of the great and late Roy Buchanan in places -- is a slow grinder which picks up energy and intensity as it goes before taking flight in one of his thrillingly dextrous solos.
With his excellent band -- among them drummers Greg Morrow and Anton Fig, keyboard player Reese Wynans elevating everything -- Bonamassa can seem like an unstoppable force here (the throb, thump and sheetmetal soloing of Distant Lonesome Train) or a man who has embraced so much blues history that he simply channels it in songs like the piano-enhanced Livin' Easy which sounds like it could have been written yesterday or at any time in the past five decades.
Joe Bonamassa has never needed promoters, record companies or reviewers because right from the start he has gone direct to his audience . . . and because of his consistency you can guess that growing demographic will be very happy with this.