Graham Reid | | <1 min read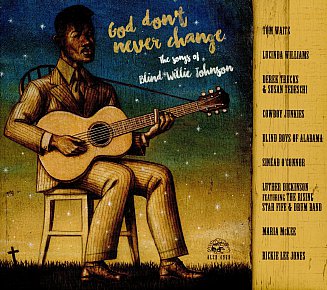 Late last year Elsewhere essayed the life and music of the great Blind Willie Johnson, the man who gave blues (and then rock and country) such cornerstone songs as It's Nobody's Fault But Mine, John the Revelator (which appeared on the Harry Smith collection) and Dark was the Night, among many others.
Johnson was a man for whom Jesus and Satan were as real as his fellow travelers on this earth and his lyrics possess an often terrifying emotional resonance.
This collection of artists is a stellar and sympathetic cast which includes Tom Waits (The Soul of a Man and John the Revelator), Lucinda Williams (It's Nobody's Fault But Mine and the title track), Derek Trucks and Susan Tedeschi (Keep Your Lamp Trimmed and Burning), Cowboy Junkies (a gritty Jesus is Coming Soon) and Sinead O'Connor (Trouble Will Be Over Soon).
Elsewhere are the Blind Boys of Alabama with an aching Mother's Children Have a Hard Time (sometimes rendered as Motherless Children), Luther Dickinson with a fife and drum treatment of Bye and Bye I'm Going to See the King, Maria McKee and Rickie Lee Jones.
All get inside Johnson's songs in a respectful but raw way, much of the music parallels Johnson's narrow range and melodic repetition, and the thorough liner essay by academic Michael Corcoran fill in Johnson's life and times.
Great songs, great versions.
The force is strong in this one.