Graham Reid | | <1 min read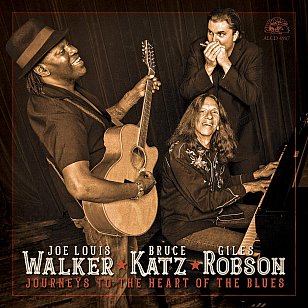 Although singer-guitarist Joe Louis Walker would be the immediate name-hook here for blues enthusiasts, the prime mover behind this was respected British harmonica player Giles Robson who met Walker at a Dutch festival, sat in with him and hatched the plan to record in upstate New York with him and pianist Bruce Katz (who had played with Ronnie Earl, Gregg Allman, John Hammond and others).
So it's just a stripped-down acoustic three-piece where they go back to material by Sunnyland Slim (It's You Baby), Washboard Sam (the rollocking You Got to Run Me Down), Blind Willie McTell (the brooding and coiled anger of Murderer's Home), Roosevelt Sykes (the earthy roll of Feel Like Blowin' My Horn) and Dave Bartholomew (Real Gone Lover) among others.
Katz is a powerfully impressive player here whose stylistic shifts between barrelhouse, Chicago barroom and touches of stride make for engrossing listening: check Hell Ain't But A Mile and a Quarter, and Chicago Breakdown.
This is earthy and traditional blues for those who know the reference points of Little Walter, Sonny Boy Williamson, Bukka White, Walter Horton, Sonny Terry . . .