Graham Reid | | <1 min read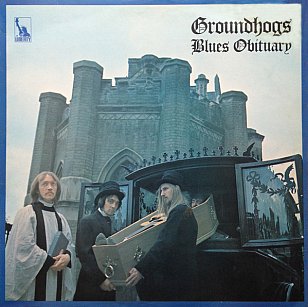 The Groundhogs are not a band you hear much, if ever, mentioned these days. They emerged at the start of the British blues boom in the early Sixties and – with singer/guitarist Tony McPhee as the sole constant in their ever-changing line-up – they have been around off and mostly on ever since.
Their low profile (they rarely get a mention in most rock histories, even British ones despite constant playing) is in part because the blues of the kind they played fell out of fashion and their more power-trio sometimes with socio-political intentions isn't much called for either.
But undeterred they make a bid for attention by getting in early with this 50thanniversary reissue of the album which stood at the end of their blues roots and a move towards fresher pastures.
The slim-line, under-powered trio still played kind of British blues some where between a constrained Hendrix, Jeff Beck-era Yardbirds and the boogie movement.
The good oil is all in the last half.
Blues Obituary is neither a lost classic of the era nor a major discovery, but it was fine entry into that world of the late Sixties and now, a few months early and with a mono version of the lead-off BDD and its flipside Gasoline (as in "I asked her for water and she gave me . . . ."), it reappears.
It was only their second studio album but the 'Hogs were moving on and burying the past. Their next one was the considerably more popular and prog-blues of Thank Christ for the Bomb.