Graham Reid | | 1 min read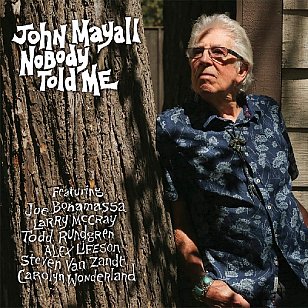 Now 85, John Mayall is like the great-grandfather of British blues. More than half a century ago however he was akin to a wise uncle for a generation of players at least a decade younger than himself who passed through his influential Blues Breakers, among them Eric Clapton and Jack Bruce (off to form Cream and beyond), Peter Green, Mick Fleetwood and John McVie (who went off to form Fleetwood Mac), Mick Taylor (later to join the Stones) and many more.
His run of great guitarists continued with Coco Montoya for a decade from the mid Eighties.
Although he may have seemed a purist, Mayall extended the vocabulary of the blues on albums like Bare Wires ('68), his concept-cum-travelogue (Blues from Laurel Canyon the same year), the acoustic drummer-less Turning Point ('69), the live Jazz-Blues Fusion ('72) and others.
It was telling though that in his Auckland concert in 2010 that he went right back to his early (and most familiar to the senior audience) material, despite having released some fine albums in the previous decade.
This album with his current band of drummer Jay Davenport and bassist Greg Rzab – Mayall on vocals, harmonica and keyboards – has a guest list of guitars/fans on old blues, more recent cuts (Evil and Here to Stay by the late Jeff Healey, Hurt Inside by the late Gary Moore) and some originals.
The guests include Joe Bonamassa and Larry McCray on two tracks apiece, Carolyn Wonderland on three (one being Bonamassa's moody Distant Lonesome Train which she tears up on slide), and Steven Van Zandt, Todd Rundgren and Alex Lifeson on one each.
A horn section and rhythm guitarist (Billy Watts) fill out the sound.
For some of this these songs are guitar solo burn-ups, but the pace is pulled back often enough: the simmering take of That's What Love Will Make You Do which Runt pulls up a notch, the Delta blues-funk of Delta Hurricane with Bonamassa and horns to the fore, Lifeson on the Healey-penned piece, Wonderland on the slow and fairly uninteresting seven minute-plus title track, and Moore's soul-inspired song with McCray.
Mayall's often strangulated vocals are here more raw (and therefore right) and yes, this does seem a self-curated tribute-cum-showcase.
But to its credit Mayall and friends mix up the blues ingredients enough to create an interesting palette . . . albeit of various shades of blue.
John Mayall's Nobody Told Me is released on February 22