Graham Reid | | 1 min read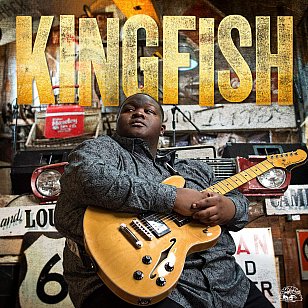 From the scouring and driving opening track on this debut album by 20-year old Christone Ingram – aka Kingfish – you might feel you are in for a pretty familiar electric blues ride out of the Chicago-based Alligator label.
But this guy from Clarksdale, Mississippi – Jeez, they are still producing blues artists from there all these decades after Robert Johnson? – proves to be something different.
On an album produced by Tom Hambridge (Buddy Guy Joe Louis Walker, Susan Tedeschi and many others) Kingfish gets the guitar fury out of the way quickly and then with Buddy Guy and Keb Mo in guest spots he frequently pulls the mood right down in most places (the acoustic and autobiographical Been Here Before, the smooth religious ballad Listen with Keb) for a deep, thoughtful and more Delta/rural/raw outing which adopts some familiar blues imagery (cooking/kitchen in Fresh Out with both guests) but also extends the genre int the 21stcentury.
He rocks and honks (If You Love Me with Keb Mo is a real boiler), gets deep (the guitar sting of the slow Love Ain't My Favourite Word) and pulls of a few cliches with real style.
Interestingly, Kingfish counts among his mentors Buddy Guy and Howl-N-Mudd who gave him his stage name (see here) and Bootsy Collins got behind him by sharing his videos on You Tube.
He's toured with some of the biggest names in contemporary blues, played all the key festivals (soon to go out with Vampire Weekend apparently) and sounds like a young man well on his way.
This impressively diverse offering is a major stake in the ground.