Graham Reid | | 5 min read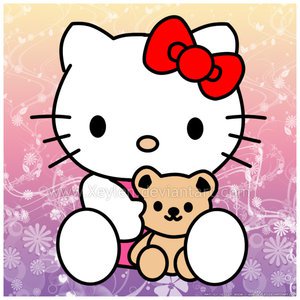 If you took the idea to the marketing department it would go nowhere.
Imagine the pitch: "Hey guys, here's an idea, just run with me on it for a minute. We create this little blue cat thing for, I dunno, comic books, magazines and who knows, maybe even movies. Then we put its picture on every piece of merchandising we can think up."
But blah-blah?
"Yeah, good question Dave, but no. It won't actually do much or mean anything. Sure, we'll have some kind of story about it. Maybe it comes back, like as a robot or something, from the future to, I dunno, help some schoolkid to ... umm ... Let's say, improve the future.
"The kids'll snap it up. Ya gotta love it."
And surprisingly, people do.
Or, more correctly, the Japanese do.
Doraemon -- the blue, gadget-toting robot cat from the 22nd century -- has been popular in Japan for three decades.
In excess of 100 million copies of the book-bound collections having been sold in Japan and the official comic is published in nine languages around Asia.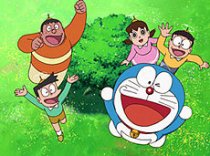 Given the new globalism of pop culture you can't help wonder if it's only a matter of time before we, too, fall for the adventures of Doraemon. The 63 million people in Asia who have seen the 21 full-length feature films can't all be wrong, surely?
It has taken another, and more recent, Jap-pop cultural aberration -- largely through the agency of a television series -- to really make an impact in the West.
Pokemon has broken the bamboo barrier -- and other aspects of Japanese cute'n'kitsch pop culture have started to infiltrate at many levels.
Manga (comic art) has always been bubbling away beneath the surface and has a large and loyal following (and a considerable number of successful Western artists are making a hefty living drawing in the style) and Pokemon and Hello Kitty merchandise is starting to be seen on the streets of Oakland and Auckland, and not in an ironic way.
Business is steady for Hello Kitty phones, bedside lamps, shower curtains, crayons, air fresheners ...
A cynic might observe that there's a Hello Kitty entry level to suit everyone's pocketmoney.
Our infatuation with the present makes it easy to ignore that Pokemon and Hello Kitty are only the latest Jap-pop culture icons and merchandising to infiltrate our consciousness.
The convenient cliche of them being a cultural version of an "Asian invasion" is readily refuted by scrolling back through Japanese television cartoon shows like Gigantor, Kimba the White Lion, Speed Racer and Sailor Moon, video games such as Nintendo's Super Mario Brothers and Sega's Sonic the Hedgehog, and television and movie tie-ins like Teenage Mutant Ninja Turtles and Mighty Morphin' Power Rangers.
The noodlisation of Western pop culture has been going on since the early 60s.
The Cartoon Network offers, among other Japanese animated series, The Powerpuff Girls, three superheroes who vacillate between feminist assertion and chintzy helplessness. If there's a message, it's difficult to discern -- just as it was with Samurai Pizza Cats.
Manga comics have long had a cult following outside Japan and hundreds of English-language Websites are devoted to the kitsch and cute of Japanese pop culture.
And it's in the nature of free-trade globalism that pop culture has gone international. They got Michael Jackson and McDonalds, we get Pikachu and Pocari Sweat.
For every Smurf given, a Game Boy received?
But some pop culture artefacts don't translate with ease across national boundaries. For Westerners, Hello Kitty, which came out in 1974, is a typical conception from a country with a predilection for the cute. It is a multibillion-dollar business based on an expressionless, pudgy pink pussycat.
Hello Kitty and her playmates (Keroppi the Frog, Pochacco the Puppy, Minna No Tabo and others you don't need to know about) earn Sanrio Corp more than $5 billion a year.
Throughout Asia, Hello Kitty -- with a distinctive red bow on her left ear and who "symbolises generosity, innocence, kindness and friendship" -- is big business. Aeon Credit Services in Hong Kong issued 100,000 Hello Kitty MasterCards in nine months, and in Taiwan 200,000 Hello Kitty dolls were snapped up in the first 90 minutes of a McDonald's promotion in August 1999.
Hello Kitty appears on products from golf balls to toilet paper, door chimes to gloves, fly-swatters to ties.
And in Japan it's become all the rage for schoolchildren to have mobiles linked directly to the Internet so they can say, of course, "Hello Kitty."
The Hello Kitty Website, run in conjunction with toymaker Bandai, is one of the favourites on mobile phone company NTT Docomo's i-mode network.
Hello Kitty fans can swap pictures, exchange messages and download Kitty's childlike antics.
There is huge potential because the popularity of i-mode phones is rocketing.
Each day in 2000 there were 12 million messages exchanged by 4.2 million subscribers.
And the chance to woo businesspeople hasn't been overlooked. Already there are briefcases which bear -- on the inside -- the Hello Kitty label. Docomo is also planning to incorporate Java programming into upgraded i-mode handsets which can access the news, stock prices and other business information.
Like the other Sanrio characters, Hello Kitty helpfully comes with her own biography. Born on November 1, she lives in London with her parents and twin sister Mimmy, and loves tea-parties. Her hobbies include travelling, music, reading, eating the yummy cookies Mimmy bakes "and best of all, making new friends".
As Hello Kitty always says, "You can never have too many friends."
Least of all those with a disposable income.
Think upward of 15,000 products emblazoned with Hello Kitty, and the rest of the Sanriofamily of merchandise, and you get the picture.
Hello Kitty has made steady inroads into playground conversations in the West and into pop culture in general. A few years ago Madonna was spotted sporting the bow, a throwback to when she was a wannabe and dressing from op-shops.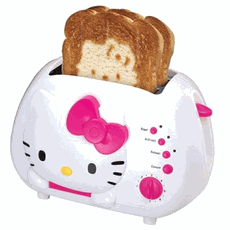 Chintzy products such as garish pink plastic handbags, hairclips and T-shirts emblazoned with cute images make ideal talking-point accessories. You can even buy a Hello Kitty toaster and other kitchen items. Nice.
And it is the very cheapness of Japanese pop culture and merchandising which endears it to kids in the West. When your wage for delivering the local newspaper is under $15 a week, you can only afford the $2 shops and cheap trash stores So for the outlay of a few dollars, pre-teens are buying cards and stickers to swap and be collected in shimmering pink Hello Kitty booklets, then shoved in schoolbags alongside the Hello Kitty pencilcase and Hello Kitty folders.
Hello Kitty herself doesn't so much do anything . . . she just is. Being cute, and scrupulously polite, is enough.
The popularity of this artlessly empty product perhaps lies in its very vacuousness. She is whatever anyone wants her to be: passive playmate and uncritical friend, receptacle for affection or, rarely it would seem, a punching bag for venting frustration.
In that, Hello Kitty isn't so much anything in particular, as everything.
Some cultural critics suggest that the Hello Kitty phenomenon has occurred because people want to return to childhood where there was no ugliness.
That raises the question, was childhood ever quite this sugary-cute?
But in Japan, where children are accelerated into adulthood and social responsibility by a gruelling, pressure-cooker education system, Hello Kitty provides a culturally acceptable, pink parachute back to childhood.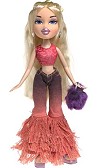 Maybe that very different cultural context means Hello Kitty won't sweep through the West with the same ruthless, wallet-goring efficiency of Pokemon.
Anyway, we'd like to believe our cultural history involves much more sensible and substantial stuff.
What? Like Fred Flintstone, pet rocks, Bratz and Barbie dolls, Noddy books . . . and a mouse whose chief feature is that he's a tattle-tale goody-goody?
Hmmm.