Graham Reid | | 4 min read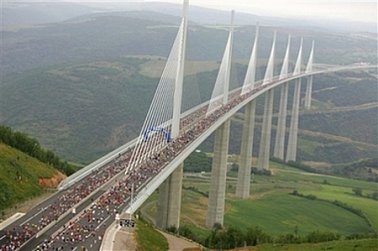 We live in a cynical world, as Jerry Maguire said. And there are reasons to be cynical: corruption and graft, deja-vu politics, corporate fraud and payouts, famine and futility …
Yet it is also too easy to by-pass healthy scepticism and head straight for the negativism of a suspicious, cynical view of Man and the world.
Cynicism seems to be at its most refined among those who perhaps have the least reason be cynical: journalists who have come from backgrounds of education (and sometimes privilege) but for whom the glass is always half empty, the motives always suspect, the results of any action or effort invariably unfavourable.
For some reason many people take cynics more seriously than they do others, they attribute to them greater intelligence or seriousness because of their pinch-lipped wariness or downright contempt for the world they are forced to inhabit.
Personally I find a lot of cynics to be bores and sometimes, it seems to me, their cynicism is a substitute for a personality. It also allows someone the opportunity to adopt an attitude in the absence of considered thought. Or a sense of generous humour.
This is not to say we might be better off if we were all mindlessly cheerful optimists, but that cynical misanthropes will seldom see the grace and beauty around them, or the achievements of others in anything other than a negative light. Their world view is too self-reflective.
I mention this because the other day I heard someone say, "I hate Christmas".
It happens every year at this time, people trot out the usual list of woes -- shopping, crowds, Jingle Bells in the supermarket, consumerism -- but it's not like the evidence of previous years hasn't warned them of what is to come. How depressing to know that the days when so many are enjoying themselves will be, for you, filled with woe and discomfort.
I happen to dislike standing up in crowded damp buses on the way into town on a wet day, but all the evidence of my life says that's the way it will be at 8.30am in winter from the stop at the city end of Sandringham Rd.
As the Americans say, "Hey, whaddya gonna do?"
You could just accept it and take it all with something approaching good grace, or at least have the consideration not to bang on about it to people who couldn't care less about your shallow self-interest.
I guess the cynics and miserablists passed lightly over one of the Mankind's great architectural achievements this week, a poetic piece of work which, to me at least, is a thrilling and beautiful statement of a collective art driven by a guiding vision.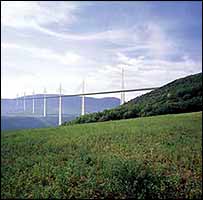 It is functional sculpture in the public domain which, like the cathedrals of old, speaks of the most lofty ambitions of Humankind.
I refer to the new bridge across a valley in southern France which appears to be a flawless marriage of form and function. It is being referred to as the Millau Viaduct after the village beneath which it now bypasses. But perhaps in time to come it will be the Norman Foster Bridge after the British architectural genius who designed it.
Bridges like this fascinate me: the fragile symmetry and spider web-thin cabling; the harmoniously mathematical sweep and grand scale; the sense of space and soaring pillars which create a rhyme scheme of physicality across the great void.
I am guessing we have just witnessed the first great piece of 21st century architecture which will take its place alongside other visionary modernist works of last century like the Sydney Opera House and New York's Guggenheim.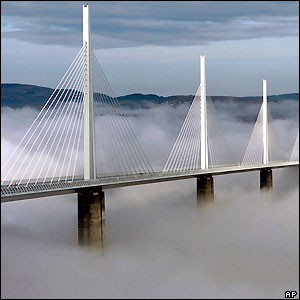 As with so many architects -- we think of Frank Lloyd Wright and Richard Meier (who designed the Getty Museum in LA) -- Foster can be a domineering character who browbeats and cajoles others into pursuing his singular vision. But, as with a great movie director who is also in charge of hundreds of people, his craft demands someone who can steer a crew in a specific, if seemingly unspecified, direction.
Foster has designed dozens of extraordinary buildings but lost a bid to redevelop the site of the Twin Towers in New York. A pity perhaps, his was the most popular design with the public: two towers which joined at the top. A metaphor which touched the hearts of New Yorkers.
Foster is an ambitious modernist whose work contains and explains the human rather than defers to principals of design which can diminish it. It is a rare skill, visionary even.
When you look at the images of the Millau motorway, sometimes in the clouds 270 meters above the River Tarn you cannot help but feel in awe of the inspired thought and the arduous labour which went in to its construction.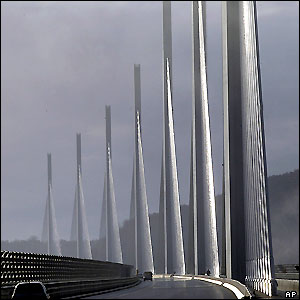 But more than that it allows the spirit to soar, it offers a glimpse of what is possible.
I cannot wait to see it, to drive across it, to sit and look at it from the valley below.
Even in the on television it is an inspirational piece of work, a monument to Man's inventiveness and higher motives.
Foster says, "Ideally passing over the bridge should allow one to 'elevate oneself'. Looking at it should provoke an emotion."
It has. But I have yet to hear what the cynics are saying.
In late 2006 I drove over the Millau Bridge. It was everything I expected -- and more.