Graham Reid | | 1 min read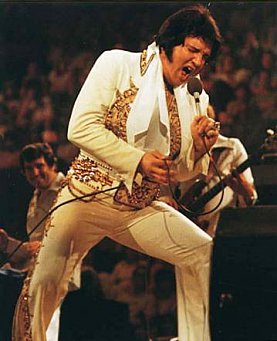 John Lennon was only half right when, on being told that Elvis Presley had died, said, "Elvis died when he went into the army".
In part that was true: before his posting to Germany Elvis was the archetype for rock'n'roll; after the songs got soft and the Hollywood movies rolled out with increasingly dreary predictability.
There were of course continuing flashes of greatness: the '68 Comeback Special on television, the subsequent recordings collected on The Memphis Record (an Essential Elsewhere album) and even the That's the Way It Is doco which captured the man's humour as much as his musical genius.
And as astute commentators like his biographer Robert Gordon always remind us, those tragic fat Elvis days were but a few years at the end of a long life during which he mostly looked pretty damned good and, even if the songs weren't as great as they had been, the man could still sing.
His death on August 16 1977 was just the final act in a great American tragedy, one that seems to have been echoed in Michael Jackson's career. The King of Rock'n'Roll and the King of Pop shared more than just a love of Lisa Marie; both unwound in a downward spiral of self-delusion and prescription poisons.
Tragic.
But the Elvis Presley story was also full of great songs and performances as the many box sets have reminded, even into his final years.
Yes, the "king is gone but he's not forgotten" as Neil Young sang, but as time goes by the music unfortunately has faded and the myth and marketing have taken over. You can't go back, but sometimes just listening to his earliest work you realise his greatness beyond being a cultural touchstone.
Elvis didn't die when he went into the army, he died in the place he felt most safe, his home in Graceland.