Graham Reid | | 8 min read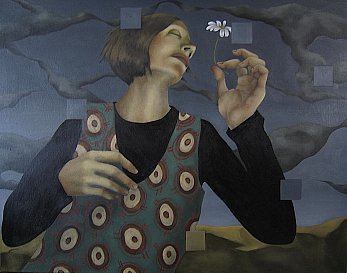 For more than 20 years Auckland artist Viky Garden has worked away from the mainstream of the New Zealand art world. Hers isn't a name that crops up regularly in general arts coverage and yet her self-portraits in solo exhibitions and group shows have won her a dedicated following.
She has gallery representation in New Zealand, Britain and the US, and in 2011 she was a finalist in the Aesthetica Creative Works competition in Britain and a semi-finalist in the John Fries Memorial Award in Australia.
Of one of her exhibitions the New Zealand Herald critic TJ McNamara said regarding her particular portraits of young women "they reject charm for insight without being savage". Of another he said "these unpretentious images carry a considerable wight of suggestion".
Garden's painting is subtle and allusive . . . but her current work is in an entirely different field, that of small scale sculpture, but equally subtle. and beautifully tactile.
Her work -- past and present -- can be viewed at her website here where the pieces are for sale.
She spoke to Elsewhere about her career so far, and this interesting, rewarding and rather lovely new direction.
Your new work takes you into a different idiom, and we can talk about that in a minute. But for those who don't know, your work thus far in your career has largely been in painting and prints, right?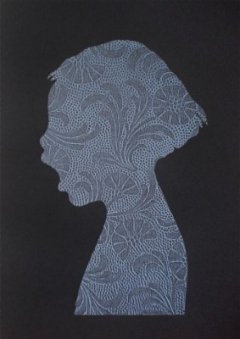 Yes, I began painting in 1989 and never actually took my eye off the canvas until I began a small series of lino prints in 1998. These were pretty much explorative, I was teaching myself as I went along (similar to all my creative endeavours actually). But I went back to painting and it wasn't until I did the BLUEGIRLS prints (2011, right) that I felt happy with what I was doing as far as creating unique prints was concerned.
Your paintings have often had yourself as the subject, but they seem to never directly be "you" but refractions and a more stylised or universalised sense of yourself. Do you see the person in the finished paintings as someone quite separate from yourself?
No, I see the finished paintings as extensions of myself. Often I'm exploring a narrative or theme from a very personal perspective. Collectively my paintings are like chapters of a semi-autobiographical novel. I have a self portraits from when I was 15, so a degree of self-reflection has been there from the beginning.
You didn't go to art school and have worked well outside the mainstream of gallery openings with wine and cheese, yet you also have international representation. Has it been an emotional and perhaps intellectual advantage to be working in a more solitary manner?
I didn't get the opportunity to go to art school, and I didn't produce any work until my late 20s. I haven't gone out of my way to avoid the mainstream, but I was very aware that because I hadn't been streamed through a tertiary art institution, my work would never be referenced as being from the perceived 'right' school, class or teacher.
This referencing is crucial for gallery clients, many of whom appear to be shy on instinct and rely on some form of recognisable or trusted pedigree.
Working with overseas dealers with a broader worldview made sense. My personal focus is on my work and not the climate of the commercial art scene in New Zealand. That's not to say I've not had excellent representation here. The intellectual advantage is that I am able to follow my own criteria, which is ultimately, every artist's desire.
The sheer body of work you have produced would suggest you are disciplined. Do you have strict regimes you observe, goals you set yourself . . . or do you sometimes just slag off and go to the movies?
Judging by the work I've done, in hindsight you could say I'm disciplined. Once I'm inspired, it's all I can do to crack on and start working. At that point, I'm driven. Inspiration however, is something else.
My irrational fear is being bored in my studio but I read recently that this is the best thing you can wish for, because with a pencil in hand, boredom will lead to doodling and doodling inevitably leads to an idea or a thought pattern that strikes a unique chord and begins to feed the hunger of creativity.
That makes it sound so simple, but the reality is often so different.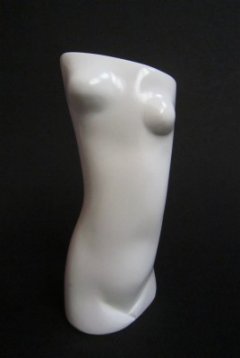 I cried laughing when I saw the film Adaptation, where Charlie Kaufman sits forlorn, looking blankly at his typewriter, desperate for motivation or even a glimmer of inspiration: "To begin... To begin... How to start? I'm hungry. I should get coffee. Coffee would help me think. Maybe I should write something first, then reward myself with coffee. Coffee and a muffin. Okay, so I need to establish the themes. Maybe a banana-nut. That's a good muffin."
Your new work takes you into the world of sculpture and physically realised forms, they are small torsos made of a fascinating material. What drew you to this kind of work?
For a long time I've wanted to create in another medium, something more tactile, three dimensional. I'd finished a painting in September last year, and had decided pretty much to put my brushes down to see what would happen. Looking back, this was a pretty risky thing to do, I'm certain I wasn't great to live with at this point, but I knew that something crucial was going on and I didn't want to ignore it.
A rather brave friend gently offered, 'it doesn't have to be painting, you know…' November rolled around and I received a postcard from Laura Carlin, a British artist primarily known for her commercial art (book covers, etc.,) but occasionally she exhibits ceramic work. Looking at the postcard the penny dropped, and I suddenly felt an enormous sense of freedom (soon to be followed by equal amounts of trepidation…)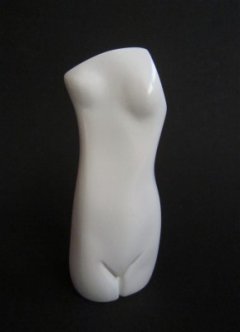 Where you may have been your subject in the paintings, do you see these torsos as a step away from the Self, however you might choose to define that? Or it it simply a new medium to explore similar questions and discoveries?
Sculpting torsos has allowed me to step back from using myself within a narrative as I would in my paintings. Though in saying that, I've always worked from the premise of 'paint what you know', so it's no surprise that the majority of sculptures are of female nudes.
The material you have used is cast in hydrocal plaster . . . which is? It is a highly malleable material, but also very strong when it sets, right?
Hydrocal plaster is a gypsum plaster that's nine times harder than normal plaster, so it's a modern interpretation of a more historical product, which appealed to me as I was interested in reinterpreting the female form along the same lines: an historical practice in a modern context.
I also wanted the torsos to be made with a simple medium, partly because I have a personal fondness for plaster sculpture, but also on an aesthetic level there's something whisper-quiet about the look of plaster. The paleness of the medium suits this series of nude torsos and doesn't detract from them.
After making a sculpture in clay, I had to teach myself how to make silicone moulds so that the original sculpture could be cast. I was lucky to have the assistance of sculptor John Radford, who gave me some quick lessons in 'how to'. Loaded up with notes, I went back to my studio and set to work.
'Driven' puts it mildly. I worked at a furious pace. By mid January I'd produced an entire series of editions (60 pieces) and took large A3 photos which I pinned on the wall above my work desk. I felt pleased at my effort but I sensed that, work aside, something wasn't quite right and as I looked at those photos I knew I had to remove the navel from the torsos.
To me, the navel was information overload. It was unnecessary. The abstract forms didn't need this kind of detail. The moment I realised this, I knew I couldn't ignore it. I took a hammer to the entire production. It was a daunting realisation, but that night I started the entire process again.
Explain how you shape these small forms – is it difficult to establish setting time, for example – and how you get them so deliciously smooth.
Casting, though methodical as far as manufacturing goes, is fraught with its own issues. Consistency and quality of the plaster in both pouring and setting (air bubbles) was a cliff-face of a learning curve. I would often catch myself looking longingly at my easel wanting to swap situations, disliking working in such an unknown field and desperate for the comfort of what I knew.
When it comes to learning, I think I am adult-lazy and terribly impatient. The good thing with hydrocal is that I never had to wait long to see results, and so many days were spent with massive highs and lows, more notes, better results (and a hell of a lot of waste!)
To get such a smooth effect, I sand and seal each torso. This allows them to be touched and rubbed without fear of discolouration or disintegration due to oils and acidity from hands.
They are extraordinary to hold, perfectly sized for the hand and you say about them they are works to "fondle". That was important at more than just a sensual level?
They really are fondle pieces. They sit and fit so comfortably within the hand that it is impossible not to play and caress the form. Touching them, fondling them is a lovely, intimate, subconscious response, very similar to having a set of Greek komboli (worry beads) in your hand – and fondling is exactly what I want people to do.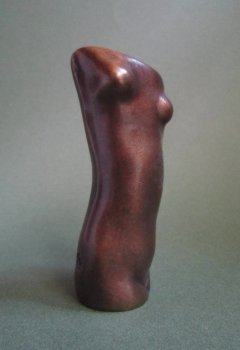 I'm beginning to think making these is my conscious reaction to seeing everyone around me holding a cellphone (I don't have one), hand held, touched, scrolled, personal.
I have always preferred small treasures to large scale event-making work, so being able to express something sublime and intimate in this way is very exciting.
I note that there is a bronze edition of one piece. Is that a new direction too?
One piece simply said 'bronze' before it had even been cast in plaster. This is the best thing about creating art, I may be the instigator and facilitator, but often the work speaks for itself.
Are you exploring the plaster medium further, or is it back to the brushes and oils?
I want to keep working at this for the next while. I'd like to think I've learned enough about the process to limit the setbacks, so it would be good to produce sculpture editions. Of course, the whole time I am working with plaster, my head is thinking about painting, so I'll be intrigued to see what time away from the easel has meant in terms of new painting.
Viky Garden has written about art for Other Voices Other Rooms. You can read those articles here.