Graham Reid | | 3 min read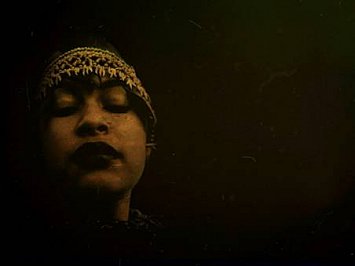 "We are all connected in some way," says Solomon Islands-born artist and curator Reina Sutton. "There are myths and legends from all corners of the world. One or more of these stories flow through our bloodlines."
Pairing up artists to produce works that honour their ancestors is the genesis for Sutton's forthcoming project, Myths and Legends in my veins.
"Myths and Legends in my veins provides a space where the artists, who are of differing nationalities, are free to explore their own stories and possibly find links with one another. I have paired the artists up for different reasons.
"For some it's a chance to lead and/or be led and for others, the chance to be encouraged and feel supported whilst learning about themselves. In this snippet of their personal journey, the opportunity to connect with others was an integral part of the vision."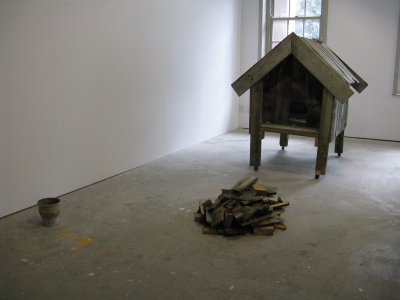 The exhibition – at Papakura Art Gallery, 24 October to 6 December – is mounted under the auspices of the Tautai Contemporary Pacific Arts Trust and includes works produced by pairs of artists: multimedia artist Rosanna Raymond and adornment artist Molana Sutton; mixed media artist Siliga David Setoga and visual artist Sean Terra Hill; and jeweller Mandy Flood and mixed media artist Troy Egan (whose Patako Iho of found objects and childrens art is pictured)
Visual artist Tony Tia is paired with textiles artist Frances Tapueluelu; mixed media artist Julian Chote with multimedia artist Ben Birks; film maker Robert George with Sutton.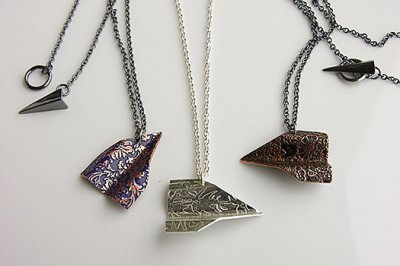 Multimedia artist Vaimaila Urale is paired with jeweller Dorothy de Lautour (some of whose Flights of Fancy pieces are pictured).
The exhibition will present adornments that draw on the strength of the artists' forebears, honouring them . . . and the myths and legends passed down that shape the artists' world view. The works will be collaborative and Sutton hopes audiences will continue this conversation.
"Our myths and legends live on through us," Reina says. "Myths and Legends in my veins is about encouraging discussions about who you are, what you know about yourself and your connections with others.
It's about learning and looking towards your ancestors and getting to know them because I feel that, to know your ancestors is to know yourself."
A selection of adornments that the artists produce will be activated, by dancers who will embody/channel the artists' ancestors/deities. A full version of this activation will be filmed and projected in the gallery space acting as a digital catalogue. This moving image/short film will be the second collaboration between artists George and Sutton.
"My practice revolves around storytelling and activating spaces," says 35-year old Sutton, "and my culture places a high value on personal adornment."
Myths and Legends in my veins draws on both elements.
"After being brought up in a religious household which distanced me from my Solomon Island culture, I'm now going through the process of becoming more familiar with my/that culture and as well as other cultures in the Pacific because through my bloodlines, I am also connected to Tonga, New Caledonia and Aotearoa."
"Adornments, such as the Kapkap and Tafuliae [shell money], feature heavily in my culture and I reference them throughout my work. They are not mere trinkets. They encapsulate power and strength. They are physical representations of our Chiefs and Gods.
"You will find throughout the Solomon Islands that we believe these taonga hold the spirits of our dead. For me, to wear Solomon Island jewellery and adornments in and on my flesh is a very important part of being physically, emotionally, mentally and spiritually connected to my people, myths and legends."
Sutton hopes the works in Myths and Legends in my veins will prove thought provoking for the artists and audiences alike. "This will be my first major curatorial project in a public gallery. I'm excited about and for the people I've brought together because they are bringing a thought process to realisation.
"They are breathing life into their past, their creations and into the space that their adornments will preside over for a month.
"I'm very much looking forward to meeting their Myths and Legends."
Featured image at the top is by Robert George and Reina Sutton.
Myths and Legends in my veins, Papakura Art Gallery, 24 October to 6 December 2015
For further information go here.