Graham Reid | | 3 min read

A few years ago when I was on the island of Kaua'i in the Hawaiian chain I went into a CD store in the pretty town of Hanalei on the north east coast. I was looking for some compilations of classic Hawaiian musicians such as Sol Hoopi whose music I recall from 78rpm discs my dad had.
The otherwise excellent shop didn't have any, but my wife picked up a disc and said, "This looks interesting".
It was Slack and Steel -- and I laughed at the happy coincidence.
It was by Ken Emerson, whom I met in 1984 when he came to New Zealand with pianist David Paquette. The delightful David had been resident in Hawaii, at the time he had a home on Waiheke Island in the gulf at Auckland, but recently he told me he'd moved to yet another island, Malta.
With the late Pat Shaw of the Cotton Club, I co-promoted a concert in about '84 by Ken and David at the Gluepot. At 8pm that night there were about six people in the room. I could see we had done our dough, but I was looking forward to the gig so much it almost didn't matter. Almost.
However by 9pm when they were about to go on the audience had swollen to well over 150 people and we were financially home free. It made the music all the sweeter.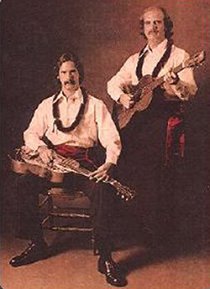 Ken Emerson was originally from Oakland, California and had been a car mechanic. He and his brother Phil both payed guitars (Ken starting on his mother's ukulele) and when Phil discovered a pile of 78rpm records of Hawaiian music at a Swap Meet they took to the style with a passion. And learned from discs by the great Sol Hoopi and others which their dad, like mine, had.
In the late 70s they entered a competition in Hawaii and out of over 500 entries they were chosen to have a track placed on a compilation album. Then their own album followed.
And so it goes.
Ken wasn't well known when he came to Auckland -- which explains the late walk-up to that gig -- but in the past twentysomething years he has become one of the finest Hawaiian style guitarists in the islands, has made any number of albums, and has appeared alongside many Hawaiian greats as well as Taj Mahal, Boz Scaggs, Bill Frisell, Jackson Browne, Todd Rundgren, Pablo Cruise, Donald Fagen of Steely Dan, Graham Nash and others. He plays regularly in Europe and across the US.
In 2005 he won the Kahili award for perpetuating Hawaiian culture, that same year he picked up a Grammy in the the inaugural category for best Hawaiian album for the compilation album Slack Key Guitar Vol 2 on which he appeared with two tracks, the only artist to do so.
By coincidence Ken, according to the record shop guy, lived near Hanalei and he said if I stuck around Ken would probably amble in to the shop. But I had places to go so I bought Slack and Steel -- along with a few other albums -- and left.
It is a gem: he (and bassist, slack key player Pancho Graham) adapts and covers Bob Marley's Small Axe, brings real heart to Sand from the late Thirties and the gorgeous '59 classic Sleepwalk, remakes the theme to The Endless Summer, brings some Portuguese flavours to his original Ka Loke de mi Corezon, salutes Hawaiian history and the problems facing the local people in 'O Akua . . .
The album not only conjures up the spirit of romantic Hawaii, but also the rich musical history and the artists whose work influenced him.
Recently I had an e-mail from Ken who'd had this Elsewhere posting brought to his attention and it appears he now lives back on the mainland and is as busy as ever. And he continues to record.
But this album is something special, not just on every level musically. For me it was almost as if I was willed to find it, courtesy of my wife's keen musical taste and sharp eyes.
These Essential Elsewhere pages deliberately point to albums which you might not have thought of, or have even heard . . .
But they might just open a door into a new kind of music, or an artist you didn't know of. Or someone you may have thought was just plain boring.
But here is the way into a new/interesting/different music . . .
Jump in.
The deep end won't be out of your depth . . .