Graham Reid | | 4 min read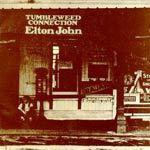 There are some images which are imprinted in my rock'n'roll memory -- one was when the young Elton John played at Auckland's Western Springs Stadium in October 1971.
That's a long time gone so you have to remember the context: Elton wasn't the glittery star he later became, in fact he seemed a pretty straight rock'n'roller with only two creditable albums and a huge hit (Your Song, which to this day irritates the bejezus out of me) behind him.
It was seated show -- white plastic seats on the grass as I recall -- and he played an instrument which was unfashionable in the guitar-rock period. I don't think I had ever seen a rock performer sitting down.
But he wasn't for long, two minutes into Burn Down the Mission from his new album Tumbleweed Connection he suddenly kicked his stool away and rocked out, as hard-hammering as Jerry Lee Lewis whom I'd only seen in movie clips -- and the open-air concert took off. There were about 20,000 people at the Springs and it was New Zealand's first international outdoor concert.
My Elton knowledge at the time was thin: I thought his breakthrough Elton John album was only okay (I hadn't heard his previous effort Empty Sky) but loved the hit-free Tumbleweed Connection.
When you look back on his pre-Yellow Brick Road career -- the ignored Empty Sky of '69, the self-titled breakthrough with Your Song, Tumbleweed Connection, Madman Across the Water which critics hated and I loved, Honky Chateau and Don't Shoot Me -- it is Tumbleweed Connection which is the standout.
It is consistent where the others aren't and Elton was drawn later to observe that "lyrically and melodically it's probably one of our most perfect albums. I don't think there's any song on there that doesn't melodically fit the lyrics".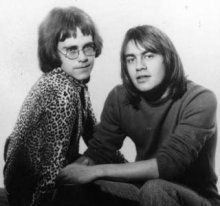 The "we" he referred to was himself with lyricist Bernie Taupin, and in many ways Tumbleweed Connection is a Taupin album, it was his passion for the Band and the American West that was the unifying thread. And lyrics which hint at something as unfashionable as reflecting on the aging process. Taupin was 20 at the time.
Tumbleweed Connection came in a sepia-tinted gatefold cover which wilfully downplayed any Elton star power, he sits small and unrecognisable in front of an old store.
Although it sprung no hits many of the songs were covered by the likes of Rod Stewart (Ballad of a Well Known Gun), Phil Collins (Burn Down the Mission), and Sting (Come Down in Time). Oddly enough Juice Newton (who covered Country Comfort) has been the only country artist to pick up on these songs.
When the album was released Time magazine noted his two recent albums -- Elton John and Tumbleweed Connection -- "are as different from each other as they are superior to much of what rock has produced in the past year or two" and "their current songs defy categorization because of Taupin's almost cinematic imagery and John's fluent, original fusion of recent pop forms".
At the time writers thought Taupin's experiences in the States had prompted the songs but the lyricist later said he'd spent hours pouring over the Band's Music From Big Pink and indulged his love of Americana, westerns and the gunfighter ballads of Marty Robbins. Certainly the lyrics suggest the Civil War period, two songs have "gun" in their titles, others are called Country Comfort and Talking Old Soldiers, and Son of Your Father could have been the script outline for a noir-western.
As Time noted, Burn Down the Mission "starts out like a country stroll and ends like a hell-bent Georgia stagecoach".
The album charted in the top five in Britain and the States and confirmed that the age of the album star was upon the rock world, even for new artists such as Elton John who had quickly consolidated his place by his energetic stage performances.
Listened to today Tumbleweed Connection still stands because it a work of great coherence, fascinating musical styles grounded in some imagined Americana, and for its alarming maturity. Elton leans towards gospel and boogie-woogie, spare balladry (the gorgeous Amoreena, the sole non-Taupin song) and pure pop.
From Tumbleweed Connection you can move through the Band to Americana and alt.country, or even selectively pick from Elton's subsequent career (avoiding the 80s).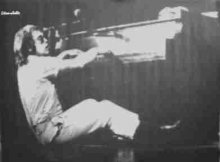 The recently reissued Deluxe Edition of Tumbleweed Connection comes with an extra disc of previously unreleased versions and demos of the various album songs and the country element is even more pronounced. There is also a gripping nine minute demo of Madman Across the Water with guitarist Mick Ronson (soon the become one of Bowie's Spiders From Mars).
Perhaps because the songs were never chart items, Tumbleweed Connection has a freshness today that some other Elton/Bernie albums from the 70s can now never have.
They are frequently dark narrative or reflective -- on Talking Old Soldiers you can hear early Randy Newman -- but of course Elton was always going to kick away that piano stool.
Close your eyes and two minutes in to Burn Down the Mission you might imagine a young, slim Elton with a full head of his own hair as the rock'n'roll star he once was.
.
These Essential Elsewhere pages deliberately point to albums which you might not have thought of, or have even heard . . .
But they might just open a door into a new kind of music, or an artist you didn't know of.
Or someone you may have thought was just plain boring.
But here is the way into a new/interesting/different music . . .
Jump in.
The deep end won't be out of your depth . . .