Graham Reid | | 5 min read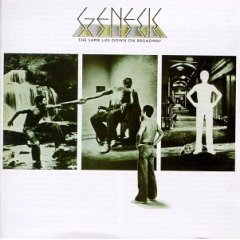 While the jury will probably always be out on what was the first concept album in popular music -- a strong case has been made for Sinatra's In the Wee Small Hours of 1955 -- the critical consensus about the first concept album in rock has formed around the Pretty Things' SF Sorrow ('68) which predated the Who's Tommy by a few months.
Of course the Who had previously explored the idea of a song cycle on A Quick One ('66) and their parody of radio station (ads and all) on The Who Sell Out ('67). And the Beatles' Sgt Pepper's of '67 was book-ended by the vague concept of the imaginary titular band in performance.
But as a complete album with an over-arching theme the Pretty Things seem to have it in the bag.
After the massive success of Tommy however the idea of concept albums and rock operas really took flight: the Who again with Quadrophenia ('73) ; Yes with their double album Tales From Topographic Oceans ('73, a better album cover than a concept); and far too many solo albums by Yes keyboard player Rick Wakeman (The Six Wives of Henry VIII, Journey to the Centre of the Earth, The Myths and Legends of King Arthur which lurched into record stores throughout the early 70s).
Quite why the notion of a concept album should take off, especially in Britain, requires a little background.
In the early and mid 60s most rock musicians in British bands were either working class or had been through liberal art colleges, in that vanguard of art-school types were John Lennon, the Who's Pete Townshend, Keith Richards and Charlie Watts in the Stones and Ray Davies of the Kinks. For them rock'n'roll of the Elvis/Buddy Holly/black r'n'b kind was a liberation from the social constraints of post-war Britain.
But by the late 60s the glamour of being in rock band (Beatlemania, birds and money) had caught on with university students and so into rock came musicians out of Cambridge (Pink Floyd), The Royal College of Music (Wakeman) and Charterhouse (Genesis). Many of these musicians had had some kind of classical training, often on keyboards, and as the parameters of rock broadened the musicians became more ambitious and keen to indulge all those years reading and writing scores: hence Emerson, Lake and Palmer's rock treatment of Mussorgsky's Pictures at an Exhibition in '71 and, to some extent, Deep Purple's thoroughly awful but courageous Concerto for Group and Orchestra ('69) with the Royal Philharmonic Orchestra under the baton of Malcolm Arnold.
Inevitably early Genesis hit their stride in a kind of pastoral English rock which frontman Peter Gabriel combined with eccentric stage costumes and theatrics.
By 1974 with the broadly thematic Selling England By The Pound album behind them, Genesis were ready to make their Major Statement: the story of a Puerto Rican street kid called Rael who is mysteriously lifted out of New York City and endures a metaphorical journey which had mythological overtones but also takes swipes at contemporary culture.
Spread over two albums The Lamb Lies Down on Broadway -- which came with complete lyrics and supporting text -- was released in the UK at the tail-end of '74 and, against the odds given its length and ambition, was astonishingly good. It peaked at 10 in the UK charts and almost cracked the top 40 in the US, and people took it very seriously indeed. In New Zealand the March '75 issue of Rip It Up devoted a full page consideration to it by way of an extended review from David Calder who called it "a phenomenal achievement" and concluded "Lamb Lies Down deserves a special place in your collection".
That assessment still holds because, unlike most other concept albums of the period, this one -- as with Tommy and Quadrophenia -- was constructed of distinctive songs, some of them even lifted out as singles and which stood on their own merits.
Although it would be churlish and unwise to overlook the fact most of the taut music was composed by Tony Banks, Phil Collins and Mike Rutherford there is no doubt Lamb Lies Down succeeds because of Peter Gabriel's allusive lyrics (he was a "luminary" according to Calder) which obliquely refer to everything from rock'n'roll history and the Bible to Virgil, Buddhism, consumerism (the wonderful Grand Parade of Lifeless packaging) and much more. It is an allegorical story of a mythic quest by Rael to find his lost brother John (who may actually be another aspect of his Self) in which the hero encounters mysterious beasts and characters, none more so than the eerie and eternally doomed Carpet Crawlers -- one of Gabriel's compositions and which stands among his finest work.
Considering that narrative, critic Calder was right to note that at this point "rock began to emerge as an expressionistic and composed musical AND literary medium". And it is lyrical phrases as much as melodies which stick here: "I'd rather trust a man who doesn't shout what he's found" was particularly relevant in a time when gurus and spiritual leaders were cluttering up popular culture and selling subvention or enlightenment in job lots to the gullible. It still holds true when you consider how many financial gurus are making promises today.
The other success of Lamb Lies Down which appeals even now is its economy: four sides of vinyl translates to something around 90 minutes, which by today's 70 minute CDs (and heaven forbid, two CDs from some artists) isn't too much of stretch, especially when there is narrative as well as mood changes, memorable songs, and music which can be edgy or majestic as the story demands. This was one of those rare "rock operas" that actually rocked, a concept album that had a concept worthy of attention.
You can't say that about too many albums from the period although The Lamb Lies Down on Broadway could be used to lead you to those albums by the Who, the Kinks' Arthur ('69) and Jethro Tull's single-song epic Thick as a Brick ('72) which still pay dividends. Or check John Mayall's Blues From Laurel Canyon ('68) which is also an Essential Elsewhere album.
You would need to be an easily impressed 12-year old however to get much out of any of Rick Wakeman's florid concept albums these days. Or anything that involved The Lord of the Rings.
But there is also an interesting sideway leap to be made, into White Mansions, a beautifully conceived, handsomely packaged narrative about life in the South during the American Civil War. Written by Paul Kennerley and sung by Jesse Colter, Waylon Jennings, Steve Cash and John Dillon (with Eric Clapton guesting on guitar) this '78 album went largely unrecognised and charted so briefly as to become a cult item, but one well worth searching out.
Concept albums have recently enjoyed something of come-back in rock: notably Green Day's Grammy-grabbing American Idiot ('04) , The Streets' A Grand Don't Come For Free ('04), Coheed and Cambria's The Armory Wars with tie-in graphic novels; and My Chemical Romance's The Black Parade ('06).
Some have suggested that in an age when people download single tracks, the concept album is a way to get audiences (and buyers) to hook in for the whole album. Maybe that's true.
What is beyond doubt however is that in the 70s there were shops full of awful concept albums, many by musical midgets, but Genesis' The Lamb Lies Down on Broadway is not one of them.
It was a brave and confident album, and it was Gabriel's last album with Genesis. That makes sense: after this one, what else could they do?
Sadly we know the answer to that -- we have Phil Collins' career as evidence.
These Essential Elsewhere pages deliberately point to albums which you might not have thought of, or have even heard . . .
But they might just open a door into a new kind of music, or an artist you didn't know of. Or someone you may have thought was just plain boring.
But here is the way into a new/interesting/different music . . .
Jump in.
The deep end won't be out of your depth . . .