Graham Reid | | 3 min read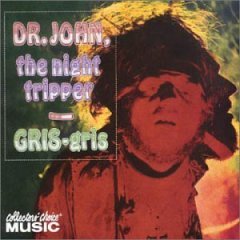 Long careers generally mean the raw and rough edges of the early days are smoothed out, and that audiences forget just how edgy and unusual the artist's music actually was.
So it is with Dr John whose career reaches way back to playing piano in bars as teenager in New Orleans during the 50s alongside legendary figures such as Professor Longhair and Huey Smith.
The Dr -- Malcolm "Mac" Rebennack, born in 1940 -- grew up immersed in the musical culture of his birthplace New Orleans, became a session player, learned voodoo culture from the likes of local mystics such as Prince LaLa, moved to LA where he played on numerous Phil Spector, Sonny and Cher, and Sam Cooke sessions, and over time honed his live act to emerge as Dr John the Night Tripper swathed in colourful cloaks, charms, smoke and mystery.
He conjured up the spirit of the bayou and New Orleans' black Indian/voodoo culture and old school r'n'b. And being tall, bearded and carrying carved walking sticks (like Screamin' Jay Hawkins) he cut a strange figure on the margins of rock.
He had been bedevilled by drug problems which in the late 60s only added to his allure, and had already established his song writing credentials writing hits for Joe Tex and Art Neville when he launched his career with the album Zu Zu Man in '65.
But it was the follow-up Gris Gris in '68 which confirmed his reputation as a strange one coming from a very different corner.
Gris Gris was a dark album which connected back to old Creole chants and mojo magic, but also caught the mood of the psychedelic period: it was the ideal album to smoke a joint to and drift away into some personal bayou filled with spook spirits, funk and menacing percussion, bird calls and brooding mystery.
And although it sounded like it was recorded in shack on the outskirts of New Orleans it was actually pulled together in LA in late '67.
The album is full of incantations and repeated chants, trippy improvisations (the six minute Croker Courtbullion is a back-to-Africa journey) but also has smatterings of r'n'b pop (Jump Study sounds like a whacked-out white-label single ). Surprisingly it also contained something approaching a "hit" in the seven minutes-plus Gilded Splinters which became something of a signature tune for Dr John.
In later years was covered by numerous artists including Humble Pie, the Allman Brothers, Marsha Hunt and, most surprisingly, Paul Weller. It has also been sampled by Beck and PM Dawn.
With odd song titles and some Franglaise scattered throughout, plus Dr John inventing his own version of language ("guilded splendours" became "guilded splinters"), the album caught the imagination of all who heard it, even if it went largely misunderstood as just another stoner album in the hippie era.
Grounded in the church and Afro-Cajun New Orleans culture, it bewildered and much as it beguiled.
Within a few years however Dr John had almost become almost mainstream, the spook circus performances were pushed away and by the 80s he was doing covers albums, saluting Duke Ellington in his own way, and far removed from the spirit of Gris Gris.
He never really returned to this style -- although Weller and others hauled him back a bit for the '98 album Anutha Zone which reconnected him with that period.
These days Dr John can reflect on a career of funky hits (Right Place Wrong Time, Such A Night), stellar studio work with everyone from Van Morrison to the Stones, television and film spots (he was in The Last Waltz) and a dedication to his hometown destroyed in Hurricane Katrina.
He has won awards, acclaim and respect for his singular body of work -- but nothing is quite as singular as Gris Gris.
In The Mojo Collection: The Ultimate Music Companion published in 2000 Gris Gris was the Dr John album it singled out for his "grafting voodoo's dark, esoteric heart to a hypnotic groove with funky blues, sparse, repetitive minor chord melodies, funereal keyboard and Afro-Cuban syncopation shot through with feral noises, gibberish and metaphysical threats and boasts, creating an unwholesome witchy brew of sorcery and chicanery that fascinates as much as it disturbs".
Hmm, that sort of sums it up.
These Essential Elsewhere pages deliberately point to albums which you might not have thought of, or have even heard . . .
But they might just open a door into a new kind of music, or an artist you didn't know of. Or someone you may have thought was just plain boring.
But here is the way into a new/interesting/different music . . .
Jump in.
The deep end won't be out of your depth . . .