Graham Reid | | 4 min read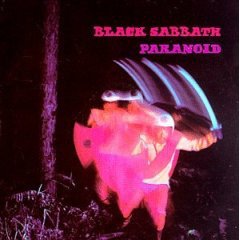 There has always been an enjoyable if largely pointless debate about just who invented heavy metal: with Link Wray with The Rumble in '58 or the Beatles with Helter Skelter a decade later? Blue Cheer for their classic album Vincebus Eruptum of '68? Led Zeppelin or Deep Purple?
The answer is obvious, it really doesn't matter. The fact is that heavy metal -- which a Creem magazine writer once described as "music for young men without a war of their own" -- arrived in force in the late 60s and hasn't gone away, just subdivided into many minor forms such as death metal, black metal, nu-metal, or ice metal. (I made that last one up, but you get the picture.)
Certainly anyone who takes their metal seriously -- and people take it very seriously indeed, unless they think it a complete joke -- tips their hat to Black Sabbath who refined and distilled various metal elements such as volume, repetition, riffery and nihilistic lyrics into a style that was quite distinctive.
Black Sabbath are frequently describe in rock encyclopaedias as "the definitive heavy metal band" or "the founders of the style" and no one would doubt that the impact of their self-titled debut in '70 was immediate and important.
The album went top 10 in the UK and their follow-up the same year Paranoid went straight to number one.
Many who have endured the brain crushing intensity of Sabbath in their later years -- and those other metal bands which followed and upped the volume and dimmed down the emotional lights -- would perhaps dismiss Paranoid without a fair hearing just by glancing at the titles of the tracks: War Pigs, Paranoid, Planet Caravan, Electric Funeral, Hand of Doom, Rat Salad and Fairies Wear Boots.
But before they were a metal band Black Sabbath -- singer Ozzy Osbourne, guitarist Tommy Iommi, bassist Geezer Butler and drummer Bill Ward -- had been post-hippie prog-rock journeymen who had earned their reputation on the road as a kind of jazz-rock outfit called Earth which even had a sax player at one point. So they could actually play.
To hear them tell it now they just decided to kick the old style, get into something heavier and took their name from a song they had written.
"We wrote the song Black Sabbath and everyone thought we were a bunch of Boris Karloffs," says Osbourne. "We started getting invites to black masses, to so-and-so's cemetery opening. We thought, 'Is this a wind-up?' "
Although the band were never into the whole Satan-worship thing it didn't hurt when Ozzy bit the head off a bat thrown on stage.
What Sabbath were however was a blue-collar, dirty arse rock'n'roll band whose audience had been largely disenfranchised by the pompous, college-educated prog-rock and laissez-faire hippies of the period.
"The reason we started writing about things like that," says Ozzy referring to their lyrics about disaster, doom and the dark side of the human condition, "was to be different. Most of the other bands around at that time were composing songs about love, sex, women and that sort of thing. We got into something different."
Sabbath's audience wanted some cathartically loud and aggressive music at the end of a day in the factory, something that went well with more than a few beers. The band provided exactly that -- and knew that its real audience was smart enough to understand that.
In '73 Sounds magazine observed, "a Sabbath fan is a youth who sees his future as just a long dark alley with a row of hoods lined up in the shadows on either side, waiting with knives. The only escape is to go to one of the band's concerts, get wasted mindless and let a black, menacing wave crash over you for the evening".
Well, maybe.
Paranoid -- which was originally going to be called War Pigs until the Paranoid single started to move up the charts -- certainly provides some tension and release. But there is also the long Planet Caravan, a slow and moody almost prog track -- which is almost certainly the inspiration for Nigel Tufnel's Clam Caravan for Spinal Tap.
The Paranoid album -- which even has a drum solo -- was very much grounded in the band's earlier incarnation and so is not a relentless slab of dark, misanthropic and moody metal. It has, for want of a better word, nuance.
Not that many critics noticed at the time, as with all of the early Sabbath albums this one received a critical drubbing -- so they just toured endlessly: eight sojourns to America in 18 months.
It made them tough, let them find their audiences, and set them up to become the legends they became.
Any of their first three albums -- Master of Reality which followed Paranoid is equally a contender as an Essential Elsewhere album -- should be in any serious music collection because here is music that is uncompromising, of its period yet standing outside its context, and an album that, much like the Sex Pistols seven years later, was a pivot in popular music and opens a window on early heavy metal.
And it still sounds bloody good turned up loud.
The 2009 DeLuxe Edition reissue of Paranoid comes with a booklet which has a lengthy essay on the band and album by David Wells, an extra disc of bonus tracks recorded at the same time (including alternate versions of some Paranoid songs) and a quadrophonic DVD mix of the album (with on-screen images) for those who want to the full sens-surround effect.
These Essential Elsewhere pages deliberately point to albums which you might not have thought of, or have even heard . . .
But they might just open a door into a new kind of music, or an artist you didn't know of. Or someone you may have thought was just plain boring.
But here is the way into a new/interesting/different music . . .
Jump in.
The deep end won't be out of your depth . . .