Graham Reid | | 4 min read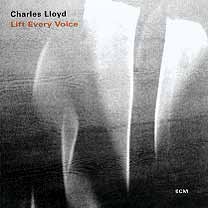 It's a fair bet the average jazz musician earns considerably less than Lenny Kravitz, and probably works a darn sight harder. Sales of jazz albums are modest – in the US 10,000 was considered a good seller – and not too many jazz musicians find their music used in Tom Cruise or J. Lo movies, let alone lucrative advertisements.
Of course some jazz musicians have been filthy rich. Miles Davis hardly wanted for a buck and Diana Krall is probably getting investment advice as often as she is asked for an autograph.
Jazz history is littered with characters who were briefly popular and made hay (does anyone remember flugelhorn player Chuck Mangione from the Seventies?), but with commercial success come accusations of "sell out" and "dilution" of the music.
Saxophonist and flute player Charles Lloyd briefly made a fortune at the height of the hippie era with the album Forest Flower, but was scorned by jazz critics then bailed out of the music by 1970 for a decade.
Alongside Keith Jarrett, his career in the Nineties has been one of the most extraordinary rehabilitations.
Ironically Jarrett, who played himself into chronic fatigue syndrome in 1996 only to recover in a series of exceptional albums, was with Lloyd on Forest Flower, which was recorded live at the Monterey Jazz Festival in 1966.
The album boasted an impressive cast besides Lloyd and Jarrett: Jack DeJohnette on drums (part of Jarrett's current trio) and bassists Ron McClure and Cecil McBee.
Jazz critics spewed when it became (allegedly) the first jazz album to sell a million, but it struck a chord in the Age of Aquarius. As Downbeat writer Tom Conrad noted in the mid-Nineties: "Lloyd brought together avant-garde liberties, impressionistic harmonies, elements of what we now call world music and variants on rock rhythms. The blend acted on its audience like a siren's call. And there was another quality that helps explain the phenomenon of Forest Flower: a hypnotic, lyrical intensity that sounded like . . . rapture. The Flower Generation may not have been big on jazz, but it was very big on rapture."
Lloyd made money and became a star; his quartet played on the same bills as Santana and Jefferson Airplane, worked the rock festival circuit, toured Europe and Japan and, in 1967, were the first modern jazz group into the Soviet Union.
Then Lloyd went into self-imposed exile in California to find his "inner life" though meditation and contemplation.
The Lloyd story – up until his tentative re-emergence on the ECM label in 1990 with Fish Out of Water – might have been encapsulated by that: instant fame and then retreat, but of course he had been around long before the Summer of Love.
Born in Memphis in 1938, he played blues in clubs with BB King, Howlin' Wolf and others, moved to LA to study, hung out with the avant-garde of Ornette Coleman and Eric Dolphy, joined Chico Hamilton's band in 1960, then in 1964 played with Cannonball Adderley for a year.
Given that pedigree you can see why he was stung when some jazz critics dismissed him as a lightweight after Forest Flower put him in a higher tax bracket.
Whether the album stands up today is immaterial – it isn't bad actually, much more muscular than memory serves – but you have to give Lloyd credit: he not only discovered Jarrett but when he made a brief comeback in 1981 it was with the gifted French pianist Michel Petrucciani, who'd loved Lloyd's early albums and made a pilgrimage to see his hero in Big Sur where he was a virtual recluse.
Lloyd heard Petrucciani's genius when few others had – "he plays like an avatar," said Lloyd sounding every bit the hippie – and introduced him to the world. When Petrucciani carved out his own career Lloyd retreated again.
Yet that's too easy a characterisation: the solitary recluse searching for himself in the pine forests of California.
Back in 1973 he gave a rare interview in which he was asked if he listened to groups like the Rolling Stones. "Sure I listen to the Stones...I live in this world, you know. I'm in it – sometimes I hesitate to say I'm of it."
Lloyd is very much part of the jazz world again, his comeback signalled by Fish Out of Water, confirmed by Notes from Big Sur (1991) and assured by the confident All My Relations (1994).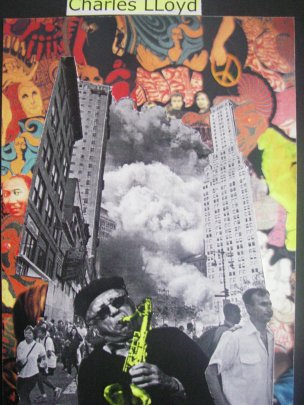 Some years ago Lloyd arrived in New York two days before his group's engagement at the Blue Note. In an interview with the New York Times this quiet, philosophical man who had spent a couple of decades considering the human condition said what the world needed more of was tenderness.
The following morning the World Trade Centre fell.
Given his philosophical nature, it was inevitable that event would affect his music. His next album was Lift Every Voice, a double disc of gorgeous understated originals and some judiciously selected covers (You Are So Beautiful, the traditional Deep River, Amazing Grace, Marvin Gaye's What's Going On).
With guitarist John Abercrombie, pianist Geri Allen, drummer Billy Hart and bassists Marc Johnson or Larry Grenadier, Lloyd gently explored the simple melodies and the overall effect is of a prayer-like, meditative quality.
Given the circumstances of its genesis, it is healing music of emotional depth, consideration and compassion.
In a word, tenderness.
And the world needs more it.
There are. number of Charles Lloyd albums reveiwed at Elsewhere, and an interview. See here.
These Essential Elsewhere pages deliberately point to albums which you might not have thought of, or have even heard . . .
But they might just open a door into a new kind of music, or an artist you didn't know of. Or someone you may have thought was just plain boring.
But here is the way into a new/interesting/different music . . .