Graham Reid | | 6 min read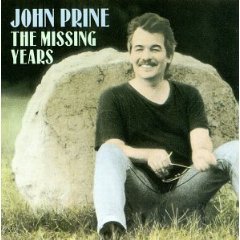 Around the time in the early 90s when he went from cult figure to frontline, American singer-songwriter John Prine got a nice kiss-off line to his entry in the Penguin Encyclopedia of Popular Music: "His live solo act is spellbinding," the final sentence of his brief career synopsis stated baldly.
Well, he'd had plenty of years to get it right. For a couple of decades he'd been on the road while others holed up for months, if not years, at a time in the studio.
Prine had found an audience out there and won admirers along the way. His 91 breakthrough album, The Missing Years, had Bruce Springsteen, Tom Petty, Bonnie Raitt, Phil Everly, David Lindley and Albert Lee (among others) lining up to be counted among his fans and enjoying the opportunity to perform with him.
And for a man whose debut album came way back in '71, was pegged with the then-inevitable "new Dylan" tag and had barely scraped into the top 200 with album sales in the States, he welcomed their discreet input.
"Oh, me and Howie [the late Petty Heartbreaker and Missing Years producer Howie Epstein] were totally unashamed about that. We didn't have to think twice about not doing it . . . we just had to make sure they weren't way out front like in some duet.
"And initially their presence attracted just that much more attention from people. We had no idea Tom and Bruce's voices would fit so well with mine and they are more character voices than dead-on crooners. We're saving Tony Bennett for next time," he joked in 92.
And maybe next time, he said, they would use the same "studio" as for The Missing Years, which was the living room, hallway and bathroom of Epstein's house.
"Yeah, it was actually recorded in his house, not a studio in his house. And Howie was quite meticulous which is why it took so long."
The Missing Years took an embarrassingly long nine months; Prine's previous studio album, German Afternoons, "took two weeks and less than a third of the cost."
The result, however was an album which won attention with subtlety. A white–label copy wouldn't alert listeners to the superstars in attendance and Prine's songs remain the focus.
He crafted winning couplets: "Sally used to play with hula hoops, now she tells her problems to therapy groups", and pulled eloquence out of the most simple of sentiments. On All The Best he farewells a lover, and acknowledges a new one in Unlovely: "you make me feel wealthy, I almost look healthy with you on my arm".
He also co-wrote a clever lyric with Roger Cook, Heartbreaker Mike Campbell and, on Take a Look at My Heart, with Mellencamp: "I seen my old lady's boyfriend, he don't look nothing' like me, 'cept for a bit of confusion, same kind she laid on me . . ."
His understated artfulness meant this man who had been variously called "one of America's finest songwriters" (Time Out) and "a modern-day Mark Twain" survive the critical acclaim and leaner years with integrity.
Despite the heavy body-count of Prime's superstar following, The Missing Years was a typical Prine album full of wry lyrics, rootsy rock, deceptively simple melodies and humorous, often ambiguous lyrics.
The title track – which appeared to suggest some compilation of Prine material from an earlier time – is a dry narrative about what happened to Jesus during those years between the manger and his appearance as an adult.
And what happened?
According to Prine, Jesus decided to hit the highway at the age of 12 and "on his 13th birthday he saw Rebel without a Cause" and later "discovered the Beatles recorded with the Stones, he even opened up a three way package for old George Jones . . ."
"Yeah, I didn't expect to write anything like that, but I sat down by myself, turned on the tape and recited it. That was it ...and I was highly suspicious of it. One day I thought I liked it, another day I'd figure I could work it into something else.
"As it happened, I just kept it like it was . . . but it does worry you sometimes where a song like that comes from."
A more obvious source for material – the quiet self-reassurance of Everything Is Cool, for example – is his recent divorce. And while you hate to say it, divorces have been good to John Prine. His best known album, Bruised Orange, a '78 return to folk/country roots after a rock sojourn, followed a divorced.
"Those sure aren't things I planned on, but it's true the divorces I've had have given me some good songs. I wouldn't want to go through it again to get a batch of good songs, though."
Yet despite the profile Bruised Orange achieved for him at the time, Prine remained a determinedly cult figure, a position amplified when he turned his back on this label Asylum in the early 80s and started is own company, Oh Boy!
Not quite the thing to do back then.
The sales success of The Missing Years in America – almost half a million sold and still selling, unanimous rave reviews (even in the notoriously fickle English rock press) and a Grammy – made the album's origins on a small label even more remarkable and vindicate his faith in himself.
The unexpected success of The Missing Years ("I knew it was a good album, but it's not like it's got a hit single on it!") came as he was toying with signing Oh Boy! and himself back to a major label.
"It would have been a distribution deal and we had the papers all drawn up and everything . . . but I had a gut feeling that it really wasn't what I wanted to do. Anyways, it's more fun to not succeed on an independent than succeed on a major."
Although his album sales have always been modest by rock standards, it was the years of constant touring which assured him an audience when he produced an album as uniformly strong as The Missing Years.
Born in Illinois in 1946, he would visit grandparents in Kentucky as a child and at 14 picked up his first guitar. He plunked out folk tunes and country covers; cited Dylan, the late Roger Miller and Hank Williams as early influences; and by the late Sixties was playing the Chicago folk and blues club circuit.
His own material bounced off various walls of meaning and he puts that down to hearing Miller's You Can't Roller Skate in a Buffalo Herd, a song which told him you can write about just about anything.
After being spotted by Chicago folk legend Steve Goodman and getting early support from Kris Kristofferson, he went to New York, signed to Atlantic and started the touring life which has sustained him ever since.
"I always made my money from touring, despite what people read in the papers and what is supposed to be going on out there. There are enough people who like this kind of music. I knew there was an audience.
"I've never thought things wouldn't get back to that [rootsy] level. The singer/songwriter is still going to be there, despite whatever else happens. When someone writes and sings their own material that will always be of interest.
"What I didn't know – because before The Missing Years I hadn't done a studio album for six years – was how the market was different."
What Prine terms "the market" embraced him on the back of that breakthrough only to discover a back catalogue of almost a dozen albums including the superb double-vinyl John Prine Live from '88 which captured the essence of his art and between-the-songs patter.
With The Missing Years which won a Grammy, tours with Cowboy Junkies, a guest spot in John Mellencamp's Falling from Grace movie and even a video (his first ever), the cult figure that was John Prine started to enjoy a remarkable high profile.
In 2003 John Prine was inducted into the Country Music Hall of Fame and two years later was named artist of the year at the Americana Music Awards.
But despite excellent albums such as Lost Dogs and Mixed Blessings in 95 and his understated Standard Songs for Average People (with Mac Wiseman) in 2007 there has been a subsequent slow sales dip, despite the rise of Americana, alt.country and roots music -- all of which he unwittingly godfathered two decades ago, and nailed with dry humour and heartfelt songs on The Missing Years.
These Essential Elsewhere pages deliberately point to albums which you might not have thought of, or have even heard . . .
But they might just open a door into a new kind of music, or an artist you didn't know of.
Or someone you may have thought was just plain boring.
But here is the way into a new/interesting/different music . . .
Jump in.
The deep end won't be out of your depth . . .