Graham Reid | | 4 min read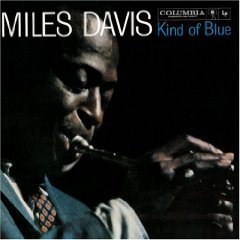 Take it from the Red Hot Chili Peppers' Anthony Kiedis. For slow romantic action when he wants to make out, it's the album he plays. Steely Dan's Donald Fagen likes the trance-like atmosphere it creates, and that it's "like sexual wallpaper."
And jazz-rock guitarist John Scofield says that 35 years ago it was so common you knew the people next door would have a copy.
"I remember at Berklee School [of Music in Boston] in the early 70s," Scofield says, "hanging out at this bass player's apartment and they didn't have it.
"So at 2 in the morning he said he'd just go to the neighbour's and ask for their copy, not knowing the people, assuming they'd have it. And they did. It was like Sergeant Pepper."
For a jazz album it has enormous staying power, considering it was recorded almost 50 years ago and the man who made it has been dead for a 15 years.
It still sells as each new generation discovers it and the previous ones wear out their copies.
It is the most iconic cool album to own, and was a milestone in jazz.
It is Miles Davis' Kind of Blue, recorded in Columbia Records' 30th Street Studio, New York in sessions which started mid-afternoon on March 2, 1959. That's half a century ago.
As with that Beatles album Scofield mentions, Kind of Blue and the musicians who made it stood for something greater than themselves. Their music and sartorial style came to epitomise an era. With Kind of Blue it was ineffably cool music, snappy suits, and hip attitude to burn. Miles Davis was often characterised as an arrogant iceberg. So when the trumpeter led his group into the studio that day there was a palpable sense that musical history was about to be made.
Davis had refined his style to what critics would later describe as sounding like walking on egg shells. His playing was modal and free flowing, the tunes he had written - So What, Freddie Freeloader, All Blues and others - are so memorable that today they turn up in popular culture and still have resonance.
In the 1998 movie Pleasantville the group of 50s high-school teenagers are awakened by the sound of So What, and Clint Eastwood as the loner secret serviceman in his 93 In the Line of Fire listens to All Blues at home.
Kind of Blue is an album which "means something." In Runaway Bride the Julia Roberts' character gives an original vinyl copy to the Richard Gere guy. The scene drips with unstated resonances, the gesture says something about him -- and her.
Acclaimed on its release, Kind of Blue has gained in stature down the decades. It's the jazz album people who don't like jazz listen to.
There is a calm at the centre of the music, a sense of poise and an almost aloof quality. There is a simplicity that had been lacking in jazz at the time.
"The music has gotten thick," said Davis in a 1958 interview in which he suggested he was considering another musical approach. "I think a movement in jazz is beginning, away from the conventional string of chords and a return to emphasis on melodic rather than harmonic variation. There will be fewer chords but infinite possibilities as to what to do with them."
And so Davis consider simpler, slower moving harmonic frameworks. Quite how that would be reaslied in the studio was another matter, and a great story.
Anyone who has sat in on recording sessions, however, knows what dull affairs they can be. In the studio there is no sense of time or the world outside. All you have is stale air and the company of people you may not even like but with whom you have agreed on a common purpose: to make music. With any luck, great music. Consequently, few books have been written about musicians in the studio. Sir George Martin wrote his recollections of the recording of Sergeant Pepper and if anyone were to look to jazz for the counterpart iconic album it would be Kind of Blue.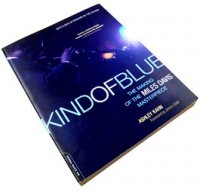 Ashley Kahn's comprehensive, well-illustrated, 220-page hardback Kind of Blue: The Making of the Miles Davis Masterpiece (published in 2000) begins like an adventure story: the author enters the studio on a December morning in 1999 as millennial fervour and snowflakes fly around him. He is going to hear the recordings of the complete Kind of Blue sessions. An engineer spools in a reel of reddish-brown half-inch tape and hits the play button and . . .
And so begins an engrossing exploration of the music, historical background to the sessions, a brief synopsis of the careers to that point of the key players (Davis over his heroin habit, saxophonist John Coltrane's tentative steps towards greatness) and much more.
Even for those with little interest in jazz this is a fascinating account of personalities and record company politics, and of a style of music which infiltrated the classical world and redirected jazz.
As pianist Herbie Hancock - later to play with Davis - notes of Kind of Blue: "It presented a doorway for musicians of my generation, the first doorway that we were exposed to in our lifetimes. See, I was born in 1940 so I wasn't old enough to be around for the transition between swing and what we call the beginning of modern jazz. Bebop was already on the scene by the time I ever paid any attention to it. When Kind of Blue came out I had never even conceived another approach to playing jazz."
He might also have added, and another way of hearing music.
An Essential album, Elsewhere or otherwise.
NB: The 50th anniversary re-issue of Kind of Blue is an exceptional double CD package of the original album with studio chat and alternate take of Flamenco Sketches plus classic material recorded around the same period (On Green Dolphin Street, Stella By Starlight etc).
It comes with an expanded DVD version of the 2004 doco film Made in Heaven about the album which features interviews with numerous musicians, author Ashley Khan and others, and has wonderful photos of the sessions. The package also has an excellent mini-essay by critic Francis Davis.
These Essential Elsewhere pages deliberately point to albums which you might not have thought of, or have even heard . . .
But they might just open a door into a new kind of music, or an artist you didn't know of. Or someone you may have thought was just plain boring.
But here is the way into a new/interesting/different music . . .
Jump in.
The deep end won't be out of your depth . . .