Graham Reid | | 3 min read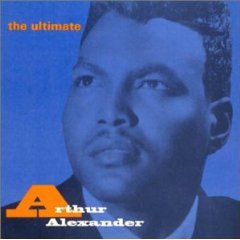 You only need look at a partial list of those who covered the songs of Arthur Alexander (1940-1993) to get a measure of the man's gifts: the young Beatles (John Lennon a big fan who sang Soldier of Love and Anna); the Rolling Stones and the late Willy De Ville (You Better Move On); Ray Columbus (Where Have You Been retitled as Til We Kissed); Ry Cooder (Go Home Girl); just about every Merseybeat r'n'b band (Shot of Rhythm and Blues); and then add in the Who, Dylan, John Hiatt, Jimmie Dale Gilmore . . .
In '94 there was also a tribute album Adios Amigo which featured, among other fans, former Byrd Roger McGuinn, Elvis Costello, Robert Plant, Graham Parker, Marshall Crenshaw, Nick Lowe, Zucchero, Frank Black . . .
And on Alexander's final album, Lonely Just Like Me in '93 released shortly before his death of a heart attack, he had assistance from Spooner Oldham and Dan Penn.
So the question is: if Arthur Alexander was so great, how come he was out of the music business for 18 years, most of that time driving a bus?

According to Alexander, after 1975 when he had a hit with Every Day I Have to Cry Some, he got sick of bad business deals and the loss of his publishing.
"I got fed up. I felt like I was never gonna get justice. Everybody was screwing me and I decided I could live a better life if I'd done something else.
"I went back to the church and I became a junior deacon and I began working with younger people in Sheffield, Alabama."
So Alexander, gifted writer of country soul and r'n'b pop was back in the town he was raised in.
As a boy he assimilated a lot of country music (Red Foley, Gene Autrey, Hank Williams) and his dad would play guitar in juke joints, although discouraged his son from being a musician: "I heard white singers long before I heard good black singers," he said.
But then he ran headlong into Percy Mayfield, BB King, Junior Parker and Jimmy Reed.
Marrying the styles of country and blues-soul, he cut his first record (Sally Sue Brown) in 1961, then helped build Fame Studio where he recorded You Better Move On. Spooner Oldham was on the session.
The song sold, he quit his job as a bellhop and hit the road, writing and recording, and along the way losing his royalties and publishing. Despite being spoken of in the same breath as Sam Cooke, it was inevitably he would become disenchanted with the music business so he quit.
What is so distinctive about Alexander's songs and the large part of their appeal is their narrative quality.
"One guy who influenced my songwriting as far as telling stories was Louis Jordan . . . the difference is most of his stories were funny."
Alexander's usually weren't: "Anna, girl before you go now, I want you to know now, that I still love you so, but if he loves you more . . . go to him."
Or even the sense of impending loss and defensiveness in You Better Move On which on a first hearing sound like he's in control, but the lyrics say otherwise: "You ask me to give up the hand of the girl I love, you tell me I'm not the man she's worthy of. But who are you to tell her who to love? That's up to her and the Lord above . . . you better move on. I know you can buy her fancy clothes and diamond rings, but I believe she's happy with me without those things . . . "
Alexander's songs took you straight to the heart of the story, sometimes from an opeing line: "If it's really got to be this way . . ."
He could also write straight ahead r'n'b rock, and even some of his sadder songs lent themselves to being kicked up a notch.
When he made his foray back into the music business in the early Nineties he was older, wiser, cautious and appreciative.
"The fans always was great," he said shortly before his unexpected death. "It just made me want to do more just to please them, 'cause they were the ones that kept my stuff alive, 'cause I didn't do nothin' to keep it out there.
"It makes me want to come back and give it another shot."
All too soon though, it was once more over to the fans to keep the music of Arthur Alexander alive.
These Essential Elsewhere pages deliberately point to albums which you might not have thought of, or have even heard . . .
But they might just open a door into a new kind of music, or an artist you didn't know of. Or someone you may have thought was just plain boring.
But here is the way into a new/interesting/different music . . .
Jump in.
The deep end won't be out of your depth . . .