Graham Reid | | 3 min read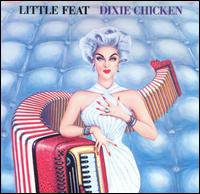 The critics liked Little Feat -- and Dixie Chicken -- a whole lot better than the public. Today any number of greybeards will tell you how they were deeply into the band but (as with those who were always into the Velvet Underground) the facts speak for themselves.
Only 30,000 bothered to go to a shop and buy Dixie Chicken when it was released. It was the band's third commercial failure after their self-titled debut in '71 and Sailin' Shoes the following year.
Yet time and distance allows us to see the album as pivotal in their career and the start of their deep embrace of Southern culture and elements which made them so distinctive. They got the funk and it oozes out of the music.
Little Feat had enjoyed a colourful career to that point: singer and slide guitarist Lowell George had been a member of Frank Zappa's Mothers of Invention and Zappa was instrumental in getting the band of George, Mothers bassist Roy Estrada, drummer Richie Hayward and keyboard player Bill Payne a record contract with Warners.
Sailin' Shoes included George's classic truck drivers lament and statement of intent, Willin'.
Critics hailed their implosion of country, rock and slightly psychedelic blues, (some likened it to a more approachable Captain Beefheart) but people stayed away from record shops.

By the time they got to Dixie Chicken bassist Estrada had left and was replaced by Kenny Gradney who had been in Delaney and Bonnie's band. He brought conga player Sam Clayton with him, and guitarist/singer Paul Barrere also joined. The country-rock four-piece was now a six-piece with two percussion players and were freed up in musical direction. They rehearsed on the Warners Brothers lot on set of Camelot.
Clayton later said, "When I came and jammed with Little Feat the first time what came out was like a pot of stew -- you put all the ingredients in and it comes out with a nice flavour".
He might equally have said it was like a gumbo, because the biggest change was in the assimilation of New Orleans sounds into their music: Payne listened to Professor Longhair and Clifton Chenier, George liked Allen Toussaint and Dr John. They brought in some female vocalists (among them Bonnie Raitt, Gloria Jones and Bonnie Bramlett) to add some soulful r'n'b backing vocals -- and you'd have to guess there was a powerful intake of marijuana (at the very least) because the sounds are easy, loose limbed and slightly woozy in places.
As Bud Scoppa says in the liner notes to the four CD box set Hotcakes and Outtakes of 2000, "With the addition of Barrere, Gradney and Clayton, Little Feat's days as a West Coast roots-rock band had abruptly come to an end. Who'd've thunk that Little Feat, LA's answer to The Band would suddenly morph into the The Meters? Dixie Chicken, with its refracted second-line grooves, took everybody by surprise".
George -- who legend had it was fired from Zappa's band for playing an extended slide solo with his amp turned off -- unleashed his slide everywhere (Roll Um Easy on which he sang is almost a solo effort), and on the title track they slice off an edge of Dr John funk blues. Some also noted that the album had some of the slippery thickness and sideays lean of the Stones' Exile on Main Street of the previous year.
Whatever it was or wherever they got it, with Dixie Chicken Little Feat became the Little Feat of legend. They took to the road promoting it -- George wearing a chicken suit without the head -- and did the legwork in radio stations and stores. Stores that weren't stocking the album. So they stopped.
But Dixie Chicken has gained in stature over the years. It was the album which found George at a creative peak (he also produced it) and his singing was seldom better.
It was hardly all downhill from there but there were line-up changes, they moved in a more jazz-funk direction and George (by then increasingly dependant on drugs) was taking a lesser role. He quit and recorded his solo album Thanks I'll Eat It Here which included his take on Two Trains off Dixie Chicken, Easy Money by Rickie Lee Jones and Allen Toussaint's What Do You Want the Girl To Do. It was patchy but promising, and more in the spirit of Dixie Chicken.
George didn't have time to build on it. While touring in June '79 he died of a heart attack in a hotel room. He was overweight and had been a serious abuser of his body. He was 34.
Little Feat have carried on with a largely unchanged line-up and they still release interesting, but often not essential, albums.
Dixie Chicken however is essential. Essential essential.
These Essential Elsewhere pages deliberately point to albums which you might not have thought of, or have even heard . . .
But they might just open a door into a new kind of music, or an artist you didn't know of. Or someone you may have thought was just plain boring.
But here is the way into a new/interesting/different music . . .
Jump in.
The deep end won't be out of your depth . . .