Graham Reid | | 3 min read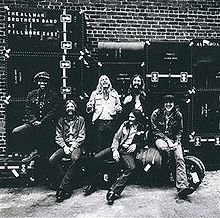 When the mobile recording studio was parked outside the Fillmore on New York's 2nd Avenue in March 1971 to record this double vinyl Allman Brothers Band album it was both a beginning and an ending: it was last concert at Bill Graham's Fillmore East (also on the bill were Albert King and the J Geils Band) but also the start of the Allman's ascent into becoming a legendary band . . . which ended shortly after.
Certainly their previous albums -- their self-titled debut in '69 and Idlewild South of the previous year -- had alerted a few people to their distinctive blend of elelctric blues, Southern rock and jazz, but this was a band best captured live.
They'd played the Fillmore East previously, the first time just a year before when they were down the bill, but on each of their subsequent three showings they had climbed the pecking order and the audience numbers were swelling.
In March '71 they were topping the bill and, with Tom Dowd producing, were caught at a peak so thrilling that some of the material recorded over those two nights was peeled off onto their double album Eat A Peach of the following year.
As Rolling Stone writer Robert Palmer noted in '79 when the Allman Brothers reformed after the death of guitarist Duane in motorcycle acident in late '71, "Any discussion of the Allman Brothers Band evetually turns to At Fillmore East. In retrospect, the two albums that preceded it can be seen as laying the groundwork, and the one that followed Eat A Peach, which was almost three-fourths Fillmore material, as a continuation. It was during the studio recording for Eat A Peach that Duane was killed, and the band's music was never the same."
The Allmans at this time were an exceptional, and very different, rock band: the paired guitars of Duane Allman and Dickey Betts were enough to set them apart for their incendiary and interlocking, intutive improvising; but there was also the often under-credited twin rhythm team of drummer Butch Trucks and percussionist Jai Johanny Johanson (aka Jaimoe) . . . and of course Gregg Allman on organ and raw vocals, and bassist Berry Oakley.
It was not just a rare grouping of players, but their diverse backgrounds and interests all fed into the music: the Allman brothers had grown up in Nashville and when they moved to Daytona Beach in Florida in their pre-teens they fell in love with obscure blues records which they would sneak across the tracks to buy and study.
Betts listened to and loved jazz musicians like John Coltrane and Pharoah Sanders (as did Duane), as well as Brahms; Trucks came from a more solid, foot-to-the-floor rock background and Jaimoe had played in soul review shows with Sam and Dave, Otis Redding and others.
The Allman Brothers were a band that had soul and blues alongside road-tested rock'n'roll chops to play a kind of non-jazz fusion where guitar solos would spiral and spin in a manner established by Eric Clapton in Cream, but with a distinctive Southern blues-rock feel.
When they went into the Fillmore they didn't have the material nailed down, they had the loose layout of the songs but the solos were going to develop as they would, and that makes the album a seat-edge experience even today.
Certainly they had material which they'd been playing for a while -- Blind Willie McTell's Statesboro Blues had long been a live favourite -- as was Gregg's Whipping Post which at 22 minutes was a showcase for the band. Perhaps the most exciting track was Betts' instrumental In Memory of Elizabeth Reed which appeared as a seven minute version on Idlewild South but during the Fillmore shows ran almost twice as long, from a reflective opening and into solos which pick up then develop the themes in a manner which has long invited comparisons with greatest jazz soloists.
(Later versions on the live collections were patched together from various performances by producer Dowd, much in the manner of what Teo Macero had been doing for Miles Davis at this time, and Dowd also edited some of the Fillmore performances for the original album.)
In 2003 and expanded edition of the original album was released which included Mountain Jam (their 34 minute version of Donovan's There is A Mountain) and Elvin Bishop's Drunken Hearted Boy.
It just added extra weight to the belief that this band was poised on the edge of genius . . . but it ended so quickly: the death of Duane, keyboardist Chuck Leavell was brought in so the sound changed, then the death of Oakley a year later, and in '76 Gregg Allman testifying against his road manager in a drug trial which effectively broke the band.
"There is no way we can work with Gregg Allman again, ever," said Betts at the time.
Well, three year later there was a reformation of sorts (Gregg, Betts, Jaimoe, Trucks and others), they broke up again in the early Eighties, reformed again, Betts left, Trucks' nephew Derek Trucks arrived . . .
There were many Allman Brothers Band albums down the years, but never another like this one which captured a rare and bright chemistry.
Interested in more Southern rock? Then check this out.
These Essential Elsewhere pages deliberately point to albums which you might not have thought of, or have even heard . . .
But they might just open a door into a new kind of music, or an artist you didn't know of.
Or someone you may have thought was just plain boring.
But here is the way into a new/interesting/different music . . .
Jump in.
The deep end won't be out of your depth . . .