Graham Reid | | 6 min read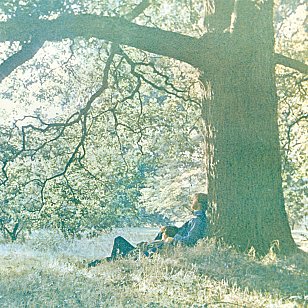 Elsewhere has been of the unwavering opinion, ever since this album was released, that is one of the great avant-garde rock'n'roll albums.
That's not an opinion widely shared and indeed from the time of its release most others have roundly damned it as being unlistenable.
Well, they said that about a lot of great albums so . . .
Released as a companion to John Lennon's soul-baring album of the same title, this remains Ono's most defining aural assault.
While her screaming, orgasms and discordant singing were hard to take at that time, the decades since which have produced Pere Ubu, John Lydon, Axl Rose, Bjork and many other singers to challenge us have made this easier.
It's still a challenge but the spare but fist-tight backing by Lennon on furious and brittle guitar, Klaus Voorman (bass) and Ringo on a minimal kit remains definitive post-punk before punk happened.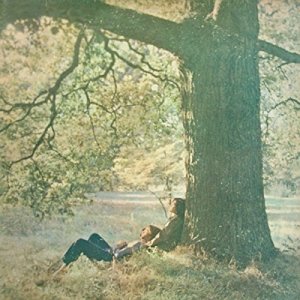 And there's her free form rehearsal piece AOS with Ornette Coleman and his band in February '68, which serves to remind that Ono was making her avant-noise before she hooked up with a Beatle.
It's worth placing the Lennon and Ono albums -- both in almost identical sleeves, hers at the top of this page, Lennon's pictured here -- back in the context of their period however: they had been through a course of Arthur Janov's primal therapy treatment in California.
The sessions involved screaming and screaming, the idea being to make the mind and body retreat to a primal state and confront fears and deeply hidden emotional scars from childhood, hence the photos of Ono and Lennon as children on the back of their respective albums.
In Lennon's case these obviously related to family: abandonment by his father when he was a child, the death of his mother in his teenage years just as they were reconnecting after many years apart.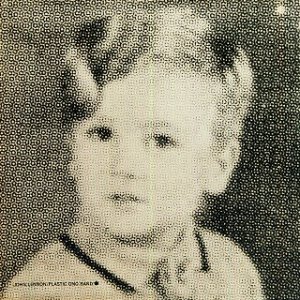 Channeling these emotions on his raw Plastic Ono Band album he came up with songs like Mother ("you had me but I never had you") and God which is a litany of things he no longer believes in, the final one being "I don't believe in Beatles . . . I just believe in me, Yoko and me . . ."
There is a lot of naked emotion on this singular and courageous album -- it's a John Lennon concept album about being John Lennon -- where therapy and pain is repurposed into art. There's also a helluva lot of screaming, as on the increasingly intense Well Well Well.
Later Lennon would say the screaming came naturally to him as a singer, he'd done it in Hamburg and on Twist and Shout, and a number of other Beatles' songs.
But if Lennon's album was uncompromisingly personal, Ono's partner piece was much more universal.
Most of her songs were wordless so the screaming is of non-specific pain. The astonishing opener Why? asks exactly that question over and over through desperate screams and sadness. It becomes existentialism set to razor blade guitars and fury at an incomprehensibly cruel world.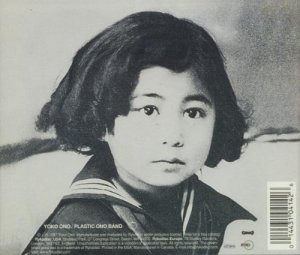 Ono had endured growing up in post-war Tokyo (a little privileged it must be conceded), two marriages prior to Lennon, a number of miscarriages and the loss of her daughter Kyoko (who had disappeared off with her father Tony Cox) . . . and of course she had suffered merciless racism in the British media when she took up with Lennon.
She and Lennon had also been through heroin detox and methadone treatment, which Lennon channeled on his Cold Turkey single.
But if those matters were the prompt, they remain unspecified on her album . . . except perhaps in the title of Greenfield Morning I Pushed An Empty Baby Carriage All Over the City.
Both albums have bare-bone music supporting them but on Ono's record Lennon plays some of the most ferociously abrasive work of his career.
There's a kind of reductive blues-funk on the 10-minute Why Not? for which Ono reverts to an almost childlike voice in places. Her naïve folk style like Who Has Seen the Wind, the flipside to Lennon's Instant Karma single, Open Your Box, remain on the margins of acceptance as much as her aggressive work.
Throughout the six pieces her unfiltered vocals merge and meld with Lennon's searing guitar wail (sometimes it is impossible to tell the two apart) and indulge in huge emotional swoops, squeaks and guttural grunts.
In terms of using primal therapy for musical ends, Ono's album was the more pure and undiluted.
Little wonder the album was roundly rejected by the few in the general public who heard it.
Plastic Ono Band sounded like nothing before it in the landscape of music, even if perhaps some of poet Michael McLure's "animal poetry" grunts and noises might have been a tenuous reference point for some.
And yet British music critics – as opposed to tabloid writers and shock-horror stories of the Lennon-Ono pairing – were cautiously favourable.
Writing on both albums in Record Mirror, Bill McAllister hedged a few bets but said, "Yoko's album, If you like melody and what we recognise as logical form, is much harder to take. Most people will write it off as just weird, not worth listening to. But it has its value. Yoko takes music beyond its extremes, into the realms of non-music you might say . . ."

He then extended the discussion onto a "What is music?" thread and concluded "What Yoko is mostly about is human electronic music. Yoko breaks through more barriers with one scream than most musicians do in a lifetime".
Duncan Fallowell summed up the album – but more pertinently the era and people's response to Ono – in his Pop Music column in the Spectator. "This releases a whole new territory of sound which, in pop, she is alone in exploring with any thoroughness, and unless her voice has been fed through electronic modulators she has quite remarkable tonsils. But I doubt whether this album will receive the attention it deserves, such is the antipathy to Yoko Ono that she can do no right."
He also noted that the opening piece Why? was "the most ferocious and frantic piece of rock I've heard in a long time and sets the pace for much of the rest".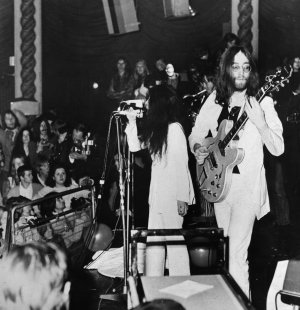 Greenfield Morning opens with a powerful, almost electronic drone with her voice echoed and moaning. If she is actually saying anything it is made inarticulate by the sound of real pain . . . and then Ringo and Voorman pick up a train-time rhythm, Lennon adds guitar texture and she moans in and out of the sounds. She sounds utterly other-worldly.
The freely improvised, seven-minute AOS with Coleman on trumpet, bassist David Izenzon, bassist Charlie Haden and drummer Ed Blackwell is a section from Coleman's piece Emotional Modulation, the only part ever released on record.
It is a minor thing until it finds its centre halfway through when she simulates orgasms and the musicians follow her as the moans become staccato screams.
Touch Me is like a synopsis of Why? with even more shatterglass guitar from Lennon and the final piece Paper Shoes is seven-plus minutes of vocal improv over Ringo adopting a pattern picked up from the recording of a train which opens it.
In recent years there has been a reconsideration of Ono's work. The likes of Thurston Moore of Sonic Youth and John Zorn have made the case for as an innovator and artists like RZA, Moby, Cibo Matto, Anthony (now Anohni), tUnEyArDs, Flaming Lips and Sparks have worked with her, taken her music into new areas of remixes and used it as a springboard,.
But even now her original Plastic Ono Band album remains as singular and astonishing as it did then.
It is the album the phrase "sui generis" was invented for.
More a dare than an album, perhaps?
.
Elsewhere has interviews, reviews and other Yoko Ono articles starting here.
.
These Essential Elsewhere pages deliberately point to albums which you might not have thought of, or have even heard . . .
But they might just open a door into a new kind of music, or an artist you didn't know of. Or someone you may have thought was just plain boring.
But here is the way into a new/interesting/different music . . .