Graham Reid | | 5 min read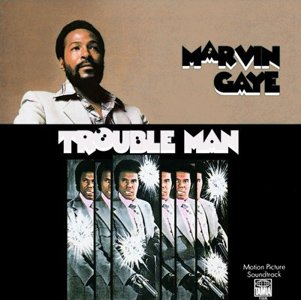 In the sales charts, music history throws up some wonderful anomalies, like the Beatles' innovative double A-side single Penny Lane/Strawberry Fields Forever being kept off the top spot by Engelbert Humperdinck's ballad Release Me in early '67.
And that Marvin Gaye's aching lament for his nation and the troubling times of the early Seventies, What's Going On, was kept off the number one position on the pop singles chart by the utterly inane and incomprehensibly popular Three Dog Night hit Joy to the World.
As the conflict in Vietnam rolled on and inner city America was blighted by riots and hard drugs, the vacuous "Jeremiah was a bullfrog, was a good friend of mine" won out over the heartbreaking "Mother, mother, mother, there's too many of you crying".
And Gaye's seminal album of the same name stalled on the main chart at number six.
These days however that astonishing, timeless album – which embraces God, spirituality, a fathomless inner yearning, ecology (long before it became a buzzword) and the social contract between the individual and greater society (not to mention that godawful war which was taking out a disproportionate percentage of young black men) – is rightly considered one of the greatest albums of all time.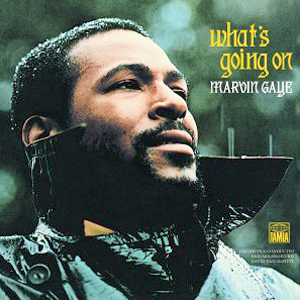 In his excellent 2004 analysis of Gaye's career Mercy Mercy Me, the critic and writer Michael Eric Dyson also reminds us of the sheer brilliance and breadth of the music which both elevates and grounds Gaye's expansive vision.
What's Going On is rooted in the church – gospel, choral music, the spiritual uplift of ascending chords – but embraces pop, jazz, the blues in a sophisticated reinvention of the idiom, Motown soul and so much more.
Always a great collaborator, Gaye – literally the son of a preacher man – brought empathetic writers and players into his orbit, listened to their ideas, embellished his own and then created that breathtaking melange of styles to capture the socio-political zeitgeist . . . in, quite literally, a fortnight or so.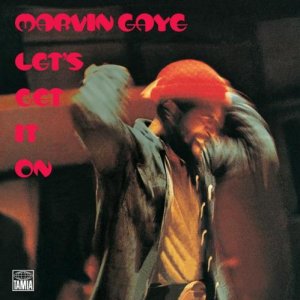 Gaye's career and increasingly damaged life would continue for another 13 years – until the preacher man would literally kill his son at age 44 in '84 – but despite often astonishing albums thereafter (Let's Get It On and the bruisingly beautiful divorce album Here My Dear, the latter inspiring New Zealand's Shayne Carter in his Dimmer days), What's Going On would remain his enduring headstone achievement.
Such were the times that just six months later Sly and the Family Stone answered Gaye's titular question with There's A Riot Goin' On.
The question for Gaye after that achievement was where might he go next.
And the follow-up album was – in terms of the expectations of popular culture — an unusual one, and seemingly a minor diversion.
It was Trouble Man, the soundtrack to a blaxploitation film which – until recently courtesy of YouTube – utterly disappeared. When Dyson wrote Mercy Mercy Me little more than a decade ago he mentioned in a footnote that it wasn't available on videotape or DVD.
Seen from this distance it's not a bad film – you can see it here -- but it's also not a classic. In fact it can be slow and boring, although you do get to see actors who went on to greater and lesser things in sitcoms during the Eighties.
In many respects, the best of it is Marvin Gaye's barely present incidental music which avoids the post-Shaft wah-wah funk but in fact is an extension of aspects of What's Going On.
Without Marvin.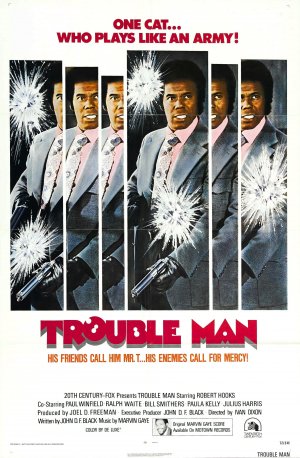 Despite the opening credits on the film in which he sings the title track, his voice rarely appears on the album of the same title.
In fact, Trouble Man is – for all intents and purposes – an instrumental album and Gaye's vocals (other than on the title track) so seldom appear you could write his lyrics on a postcard.
Marvin Gaye always loved the classic American writers like Cole Porter and saw writing a film score as more than a challenge but vindication. Here he could prove – again, as if he needed to after What's Going One – he was a serious writer/arranger and more than just a good looking soulful r'nb soulful pop singer.
Which might explain why on this much overlooked soundtrack album he doesn't enter until a few tracks in, but instead establishes a mood of layered soul-funk and spiritual jazz.
It's perhaps not too much of a stretch to suggest that – just as Pet Sounds was Brian Wilson's only almost-finished masterpiece (Sloop John B remains unforgivable) – Trouble Man is the visionary, instrumental side of the composer.
Gaye explores more souled-out jazz as he lets saxophonists Trevor Lawrence, Marty Montgomery and Eli Fountain off the leash on pieces like the Main Theme, and explored synthesiser more.
The pieces move effortlessly and coherently between bop balladry and street funk, and in sketches as brief as the two-minute The Break In he creates a menacing mood which segues into the even darker Cleo's Apartment with its disconcerting handclap, angular piano and low moaning vocal part.
Perhaps the only archetypal blaxploitation moment comes with T Stands For Trouble, a funk-with-flute piece which leaves itself open for lyrics, but which he sidesteps to let the bellbottoms'n'gangster chic mood stand on its own.
Everywhere Gaye is painting in detail with small brushes but creating a wide sweep of sound across the original album's 39 minutes.
As Dyson writes in Mercy Mercy Me, "Across a spare aural landscape, Marvin sketches sweet and spicy saxophone riffs, pungent tinkling keyboards, airy strings, plangent drumming, hard-hitting horns, and intelligent snatches of song and first tenor scatting and wordless articulations – almost like speaking in tongues to musical accompaniment – set off by the psychedelic, synthesiser-drenched funk and haunting tones of the Moog synthesiser".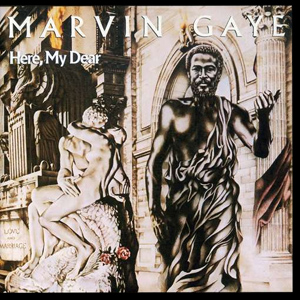 Gaye was inventing a personal language which alluded to romantic ballads and film noir on the long instrumental passages which open Poor Abbey Walsh before his yearning vocal comes in briefly at the end.
Of course there are more essential Gaye albums than Trouble Man – obviously What's Going On, Let's Get It On and Here, My Dear – but this was more than just a soundtrack of songs and incidental music. It was Gaye using the skills he had – one of them being a collaborator as he handed arrangements to others – to create a fascinating sound palette.
More than just a footnote in Gaye's career, Trouble Man – on which he explores the main theme in cleverly referential but different versions – is the sound of a true artist at work creating soundscapes and songs which exist in the service of the film, but equally fly free from it into a world of its own invention.
These Essential Elsewhere pages deliberately point to albums which you might not have thought of, or have even heard . . .
But they might just open a door into a new kind of music, or an artist you didn't know of. Or someone you may have thought was just plain boring.
But here is the way into a new/interesting/different music . . .
Jump in.
The deep end won't be out of your depth . . .