Graham Reid | | 4 min read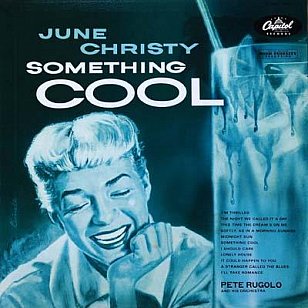 Although for casual listeners the title of Miles Davis' 1957 album Birth of The Cool gave its name to the movement, it largely fell to others to define and refine the territory and sound of "cool jazz".
Notable players in this genre which turned down the energy of bebop in favour of a more gentle, laid back and quietly exploratory style were Chet Baker, Gerry Mulligan, Lee Konitz, Lenny Tristano and later some of the work of Dave Brubeck with Paul Desmond.
Many of the cool artists came from the West Coast – warmer climate, outdoor furniture, highballs on the patio etc – as opposed to the more energetic New York sounds from dark clubs, although a glance at those names shows the bi-coastal reach of this somewhat arbitrary style.
The image was also emblematic of the "cool" style. The look was cool.
One of the overlooked cool singers was June Christy who, when she died in '90 aged 64, was briefly hailed . . . but then almost forgotten again, aside by a few jazz writers who considered her a stylist in the same company as Ella Fitzgerald, Sarah Vaughan and Billie Holiday.
One such champion was the British jazz writer Richard Cook who would later refer to her as "one of the finest and most neglected singers of her time, [who] was given some exquisite miniatures that have long since faded from sight".
Although in that context Cook referred to two of her later album – The Song is June! from '58 and Off-Beat two years later – our attention turns to her solo debut album Something Cool which announced her career outside of the Stan Kenton band.
Christy started her professional career in Chicago but moved to New York and, in the mid Forties, when she heard Anita O'Day had quit Kenton's band she auditioned and got the gig.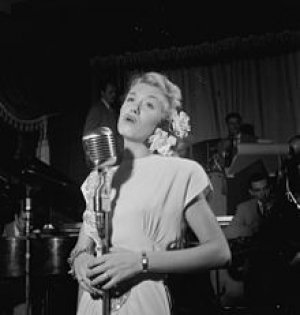 Kenton's career at this time was at its most successful (she delivered the million selling Tampico for him) but also innovative: he disbanded his band and created the daring Innovations in Modern Music Orchestra which played, among other things, the awkward but disarmingly exciting and difficult charts of arranger/composer Robert Graettinger.
Christy remained on hand (check her on Graettinger's odd chart for Everything Happens To Me) but at the same time started working with arranger Pete Rugolo and his orchestra.
It was with him she recorded the songs for Something Cool.
The album comes in a number of different versions, there was the original 10'' which contained seven songs, then the following year when LP format was more readily available there were four more newly recorded songs added to the original. Five years later with many of the same players and the same set list, the album was re-recorded in stereo . . . such was the enduring interest in it.
These days you can find the mono and stereo editions together on Spotify, and it's worth comparing the slightly deeper and more mature interpretations on the latter.
Rugolo's band included altoist Bud Shank who brings a warm but bop-inclined touch to his pointed solo space (as on The Night We Called It A Day).
Christy has a subdued sensuality (consider the title track in the stereo version) and the liner notes for her equally excellent third album The Misty Miss Christy ('56) noted she was "somewhat of a paradox" because she had the "scrubbed young-girl look instead of the smouldering, torch quality that characterises a great many jazz singers".
She was at home in a house of cats and dogs with her husband/musician Bob Cooper where she wore jeans and shirts, but on stage she was "strapless elegance" in sequins.
The cover of the Something Cool albums hint at this dichotomy: in the cover drawing she exudes fresh-faced health but on righthand side is a cocktail in a tall glass. In his liner notes producer Bill Miller also observes that paradox: "The cool and casual air may be a bit deceptive though – such polished performances are really the product of hard work and much talent".
Across the songs – which include Jimmy Van Huesen and Johnny Burks' It Could Happen To You, a swinging version of Arlen-Mercer's This Time the Dream's On Me, lovely readings of Lonely House and The Night We Called It A Day, I'll Take Romance and Softly As In A Morning Sunrise – Christy exhibits that rare control, restrained power and feel for a lyric only the best possess.
Cook singles out "Midnight Sun, I Should Care and several others [which] seem like definitive interpretation, a marvel for Christy's technique – perfect breath control and vibrato – as well as emotional colouring".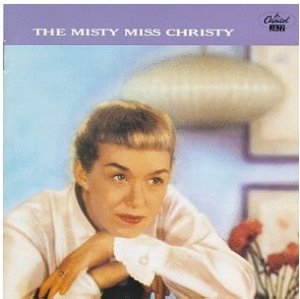 Rugolo should also get his due because the programme of songs is astute and allows Christy to express her range without shifting too far from the parameters of cool.
Christy – born Shirley Luster – was barely 30 when she recorded the stereo version (the inner sleeve explains to listeners new to the sound what stereo was) but she seems steeped in deep experience, yet also carries a measure of innocence even when delivering lyrics soaked in sexuality (Midnight Sun, the metaphorical pick-up ballad A Stranger Called the Blues).
June Christy made a number of other albums before her retirement in the late Sixties, but it was her work with Rugolo in the Fifties, notably on this album and The Misty Miss Christy which are essential in any collection of jazz, or even just one which wants to be "cool".
.
These Essential Elsewhere pages deliberately point to albums which you might not have thought of, or have even heard . . .
But they might just open a door into a new kind of music, or an artist you didn't know of. Or someone you may have thought was just plain boring.
Jump in. The deep end won't be out of your depth . . .