Graham Reid | | 3 min read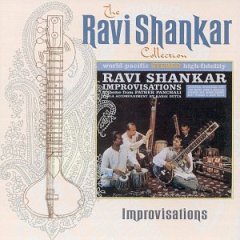 George Harrison quite correctly referred to the sitar master Pandit Ravi Shankar as "the godfather of world music" -- and Shankar was creating and giving his blessing to cross-cultural fusions and experiments long before the phrase "world music" was even thought of.
There are of course many dozens of Shankar albums in the world -- from straight-ahead classical ragas to his orchestral work with Andre Previn, duets with Sir Yehudi Menuhin. Indo-pop on George Harrison's label Dark Horse, soundtracks, albums with the likes of Philip Glass and so on.
So where to start?
Right here -- on this album from 1962, a few years before his fame was enhanced by his association with Harrison and before the raga-rock thing kicked in.
Improvisations contains a number of shorter themed pieces, but also a long raga took out the whole second side of the original vinyl.

The album opens with his theme to the Satyajit Ray film Pather Panchali (Shankar scored for dozens of films including Ray's Apu Trilogy, of which this film was a part) and the music is improvised around the brief themes stated. Think of it as jazz and you'll be fine.

Which leads you neatly to the next track Fire Night, written in Los Angeles in '61 when huge fires ravaged the landscape. Shankar wrote this dramatic and incendiary piece and it is performed by the jazz musicians Bud Shank (flute), Dennis Budimir (guitar), bassist Gary Peacock and drummer Louis Hayes.

It was Shankar's first foray into working with Western jazz musicians (he conducts but doesn't play on it himself) and it is thrilling.

Then he follows it with a short traditional raga which ends in an excting interplay between Shankar's sitar and the great tabla player Kanai Dutta (at this time making his first appearances in America).

So these short pieces open you up to the breadth of Shankar's vision, which flourishes on the second side of the original album.

This is a glorious treatment of the evening raga, Rageshri -- a melodic, hypnotic and relaxing piece which unfolds in three distinct sequences: the alap in which the notes are slowly explored and the themes established, the long jor in which Shankar settles in over the rhythmic patterns and develops the melodies, and then the fast gat at the end, the climax of the piece.

As an album to introduce the sound of Indian classical music and its improvisational possibilties this should be a cornerstone in any serious music collection.

After this you may head off into the hardcore classical sitar albums; his ensemble works (Ravi Shankar's Music Festival From India); his West meets East collaborations with Menuhin, Zubin Mehta, Jean-Pierre Rampal and Previn; or the vocal work he wrote (Shankar Family and Friends).

In his first autobiography My Music, My Life published in 1969 Shankar said that it takes more than one lifetime to learn Indian classical music.

You might feel you don't have that much time, but at least investigate this wonderful album.

It could be the start of a long love affair.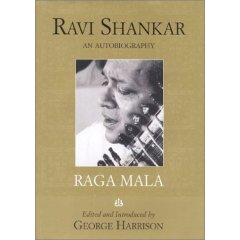 You may also like to read his (almost) tell-all autobiography Raga Mala (he was a "stickman" as they say) or locate the excellent BBC doco-DVD In Portrait.
There is also a four CD-set In Celebration which collects his work under the musical themes Classical Sitar, Orchestral and Ensembles, East-West Collaborations, and Vocal and Experimental.
All the Ravi you might need, right there in a beautiful box complete with a brief, well illustrated biography.
These Essential Elsewhere pages deliberately point to albums which you might not have thought of, or have even heard . . .
But they might just open a door into a new kind of music, or an artist you didn't know of. Or someone you may have thought was just plain boring.
But here is the way into a new/interesting/different music . . .
Jump in.
The deep end won't be out of your depth . . .