Graham Reid | | 1 min read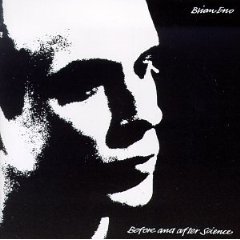 Of the many dozens of diverse albums by Brian Eno -- who flared onto the music scene for the first two glam-louche Roxy Music albums -- this is the best window into his remarkable career.
As a producer he was pivotal in the work of David Bowie, Devo, Talking Heads, U2 among many others. But he also created seminal albums of ambient music (music as ignorable as it is enjoyable), helmed his own Obscure label, soundtracks, music for art installations, and bent pop.
This exceptional album has elements of all of those: the jerky, tense and angular King's Lead Hat was a nod of approval to the then-little known Talking Heads (the title is an anagram of their name); Kurt's Rejoinder is referenced in the found and abstract art of Dadaist Kurt Schwitters (there are samples, ambiguous and strange lyrics woven through the incessant rhythm) and everywhere there are sonic delights such as processed sounds, the fretless bass of Percy Jones, and strange synthesiser.
But what comes through most of all is a gentle and warm humanity in the instrumental tracks Energy Fools the Magician and Through Hollow Lands; the gorgeously optimistic Here He Comes; and a seductive pastoral feel on Julie With and minimalist By This River (with the German duo Cluster, with whom he also collaborated to great effect).
The final track Spider and I is a holy moment befitting a Zen-inspired William Blake.
Before and After Science can act as Eno's calling card: if you prefer the instrumentals or gently atmospheric tracks you should then head towards albums such as Apollo, the Music For Films series, and his collaborations with avant-garde composer and experimentalist Harold Budd (to whom Through Hollow Lands is dedicated) or trumpeter Jon Hassell.
If the angular pop is more to your taste you should move towards Eno's earlier albums Another Green World and Here Come The Warm Jets.
And all these set you up for his ground-breaking trilogy with Bowie from this period -- Low, Heroes and the often-overlooked Lodger. Or the prescient My Life in the Bush of Ghosts from '81 with David Byrne of Talking Heads which was years ahead of the game in its use of samples and found voices from radio broadcasts.
On Before and After Science, the endlessly innovative Eno opened a window for others to look through.
An album essential in any Elsewhere collection.

These Essential Elsewhere pages deliberately point to albums which you might not have thought of, or have even heard . . .
But they might just open a door into a new kind of music, or an artist you didn't know of. Or someone you may have thought was just plain boring.
But here is the way into a new/interesting/different music . . .
Jump in.
The deep end won't be out of your depth . . .