Graham Reid | | 3 min read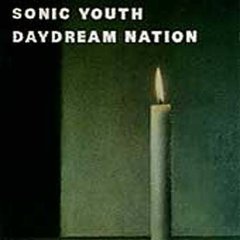 There are some albums (such as Sgt Peppers) which so crystallise their period that you cannot imagine that era without them. Then there are others (The Velvet Underground's debut) which appear to stand so diametrically opposed to the prevailings movement of their time that it is usually only in retrospect their impact and importance can be truly appreciated.
Sonic Youth's Daydream Nation of 1988 is a rarity -- it scores on both of those counts.
Widely considered their "breakthrough" album, it largely went ignored (as was the VU debut, no matter how many people tell you they were "into it" at the time), and then when their record label folded it remained out of print for six years.

But Daydream Nation existed between the avant-garde and post-punk/pre-grunge rock.

With its sonic aggression and energy grounded in unusual guitar tunings and a keen sensibility for songcraft (which hadn't been too apparent on previous SY releases), Daydream Nation created a template for guitar experimentalism that didn't become utterly self-indulgent. In fact in driving tracks such as the seven-minute Cross the Breeze and Hyperstation it fairly grabbed listeners by their collars and dragged them along for a thrilling ride.

Sonic Youth had part of its origins in the avant-garde music of New York City, specifically Glenn Branca's guitar ensembles of the early/mid 80s in which SY members Thurston Moore and Lee Ranaldo played.

Branca's guitar symphonies were dense and exciting, and offered possibilities of a different approach to composition, guitar playing and tuning, and pure noise which SY played in its early incarnations.

Along with the Swans -- and inspired by the likes of Big Black, various Henry Rollins bands, and the Butthole Surfers -- SY initially explored noise and experimental rock, and acclaim came slowly.

However after the exciting EVOL of '86 in which they seemed to consciously embrace more melodic sounds, the ground was prepared for the expansive Daydream Nation.

With the kind of sonic impact of Branca's massed electric guitars, a collection of lyrically fascinating songs, and painting on a broad sonic canvas (from the chiming Hey Joni to the musique concrete tape-collage of Providence which follows it), Daydream Nation is a collection that would -- as with that VU debut -- launch a thousand bands. But it also stands -- as with Sgt Peppers -- as an emblem of its period.

In '88 across in Seattle grunge had been emerging but had yet to hit its mainstream stride, and in New York the whole New Wave scene (Talking Heads, Blondie, Ramones) had found its audience and the thrill of that scene was dissipating.

Sonic Youth -- and specifically Daydream Nation -- showed there were still possibilties in rock music which were uncompromising and innovative, and could sweep you up in its sheer indulgent exhiliration. It also came with great songs.

Daydream Nation has been consistently voted among the top albums of the 80s, one of the best-ever alternative albums, among the top albums of all time and so on.
Essential in other words.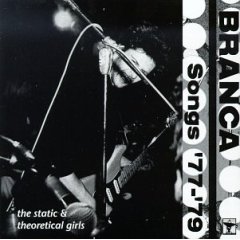 From here your journey can be back into Branca's exceptional guitar symphonies, through Sonic Youth's diverse career (the side projects are generally interesting too), into early grunge (before Nirvana's Nevermind), hardcore bands such as Black Flag and Bad Brains, early Stooges and the MC5 (who influenced Sonic Youth), or bands on indie labels such as SST and Blast First.

It's quite a trip you sign up for, and I haven't even mentioned Fred Frith -- but that's another story.
Daydream Nation was reissued in July '07 in a Deluxe Edition which offers the whole album (with a previously unreleased demo track) on the first disc, and on the second the band playing the songs live in various venues, plus four covers: George Harrison's Within You Without You, Mudhoney's Touch Me I'm Sick, Neil Young's Computer Age and Captain Beefheart's Electricity. The set comes with two good historical overview essays.
Essential, obviously.
These Essential Elsewhere pages deliberately point to albums which you might not have thought of, or have even heard . . .
But they might just open a door into a new kind of music, or an artist you didn't know of. Or someone you may have thought was just plain boring.
But here is the way into a new/interesting/different music . . .
Jump in.