Graham Reid | | 2 min read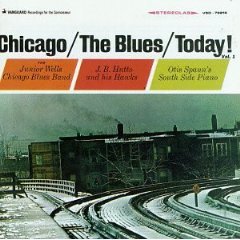 With an American history over a century long, the blues isn't easy an easy journey to begin on: do you go at it chronologically from slave chants and field hollers, or work back from white popularisers like George Thorogood, Stevie Ray Vaughan and Led Zeppelin?
Given that most people live in what we might call the post-rock era it might be easiest -- and is certainly rewarding -- to hit that intersection where blues plugged in and got dirty'n'urban.
Chicago in the early 60s in fact, when it rocked.
The black migration from the South to Chicago and Detroit in search of work after the Second World War is well documented but what is also apparent is that the big noisy cities demanded -- and created -- a new sound.
Backporch acoustic guitars just didn't cut it in the Southside clubs of Chicago where people went at the end of a working day or on weekends and wanted the music to reflect their tougher environment.
The music got louder and more emotionally edgy, but was no less heartfelt or filled with the agonies of life.
For example on this historic collection -- mostly recorded in '65 and the first of three essential volumes of Chicago blues -- the Junior Wells Chicago Blues Band (with Buddy Guy on guitar) ache through a song which opens with familiar blues lines: "Woke up early this mornin' , was feelin' kinda blue, my landlady said 'You got a letter boy' and I began to sing the blues . . ."
Then he goes straight to the heart of contemporary black America: "It was from my brother, don't you know the boy is down in Vietnam . . . "
Wells then speaks to the heart of his people who are poor and disenfranchised in America but have family fighting in Vietnam. It would be some years before white American musicians would get to this issue in any serious way.
Elsewhere on this exceptional album Wells delivers the switchblade energy of Messin' With The Kid and offers a tribute to the previous generation when he songs Sonny Boy Williamson's Help Me.
The titles of a couple of the J.B. Hutto and the Hawks songs tell their own story: Please Help, Too Much Alcohol, and Married Women Blues.
And pianist Otis Spann with drummer S.P. Leary barrels through rock'n'roll style boogie blues.
This volume and the two companions which were released simulataneously in '66 -- the other two with Otis Rush, Jimmy Cotton, Homesick James, Johnny Shines, Johnny Young and Big Walter Horton -- captured a moment in time in Chicago when blues was an authentic and largely unrecorded voice of a disenfranchised people.
The music reflects their concerns -- and yet is somehow liberating.
Messin' With The Kid for example is a prickly slice of blues-rock that drives with restless energy and is quite uplifting. One of the great myths is that the blues is sad music (it can be, but is not exclusively so) and these electrifying songs are proof of the cathartic effect it can have.
These three volumes belong in any interesting collection (they were reissued on CD in the late 80s) and open to the door for further exploration: from here you could dig deeper into Chicago blues and acts like the late Hound Dog Taylor and the Houserockers; move into the Kings (BB and Albert); head back down South to discover Blind Willie McTell and Robert Johnson; or just buy a starter book like Francis Davis' The History of the Blues (Da Capo) and follow whatever names interest you.
But wherever you go, this is an exciting place to start.
By the way, when Junior Wells kicks into All Night Long you might recognise it. Yep, Led Zeppelin stole it, didn't credit Wells, and had a huge hit. That's the story of the blues too.

These Essential Elsewhere pages deliberately point to albums which you might not have thought of, or have even heard . . .
But they might just open a door into a new kind of music, or an artist you didn't know of. Or someone you may have thought was just plain boring.
But here is the way into a new/interesting/different music . . .
Jump in.
The deep end won't be out of your depth . . .