Graham Reid | | 3 min read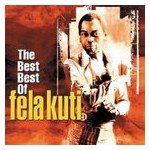 The great Fela -- who died of Aids-related illnesses in 97 -- was a superstar in Nigeria. He single-handedly created incendiary and righteously angry Afrobeat by welding together James Brown funk and the politics of resistance with a huge horn-driven band . . . and no one since has been able to match him for driving, percussive music and on-stage energy.
Fela's life was as interesting as his music: this political lightning rod was born to upper middle class parents and his mother was a prominent pro-independence advocate who travelled extensively through Communist countries in the early 50s.
Fela was sent to London by his family in 1958 but rather than study to be a doctor as they intended he enrolled himself at Trinity College of Music. He formed a jazz-cum-highlife band Koola Lobitos, and by the early 60s they were a fixture in the burgeoning r'n'b club scene playing places like the Marquee. He moved back to Lagos, got together a new line-up of the band and in '66, when he was in his late 20s, discovered the powerful local marijuana.
He took the band to the States and, impressed by James Brown and Black Panther politics, he fused the two and -- with heroic intakes of weed -- returned home to begin performing in Lagos at a rundown nightclub, The Shrine.
His nearby compound where about 100 followers and band members lived he styled the independent Kalakuta Republic. In his free-flowing songs he railed against corruption in the government, big corporations and feminism (nope, he wasn't always on the money in Western eyes), and the police repeatedly raided his shows and beat up Fela, his band and audience.
In one incident in 1977, 1000 soldiers invaded the compound, Fela was beaten senseless, and they burned the place, including all his intruments and recording studio. They threw his 82-year old mother from an upstairs window.
But Fela -- who married 27 of his "queens" in a single ceremony in '78 -- just kept coming back and making fiery, rhythmically propulsive music.
By the early 80s he was a legend and making the pages of NME and Melody Maker in Britain. Before there was an awareness of "world music" Fela had hurdled the barriers by sheer force of personality and the power of his music, some of which would be jamming songs that could last well past the half hour mark. Bill Laswell and Wally Bardarou produced Fela albums.
His Nigerian albums became much sought after -- and those who embarked on finding out about him are spoiled for choice. Some say he made 50 albums, some say 150.
Whatever the truth about Fela -- and there are plenty of different versions -- he was a musical giant. His Afrobeat is a political rally and dance party rolled into one. There are a number of double CD Fela collections out there (the Best Best is a repackaged and retitled from Music is the Weapon but adds a fascinating 50 minute DVD-doco from 1982 when he was trying to run for president of Nigeria). Most compilations cover the same essential tracks, but Best Best is the best.
From Fela albums - which could be a lifetime of collecting in itself -- there is the obvious thread to his son Femi Kuti who picked up the mantle after his father's death. Femi stalks the same territory without the gravitas and urgency but has brought remixers into the house to give himself a contemporary audience. The other obvious direction is to follow Fela drummer Tony Allen's career.
Allen is a star in his own right and has released dozens of albums under his own name (and with his Africa 70), but more recently popped up as a member of The Good The Bad and The Queen, another of former Blur frontman Damon Alban's projects -- which in itself might lead you to Alban's Mali Music album of 2002 and another direction in African music.
If it is Nigerian music you want to explore however, you will find no one quite like Fela. But you simply cannot go past the wonderful juju guitar music of King Sunny Ade (whose slightly slick Synchro System album of '84 is indispensible, especially in summer) and Ebenezer Obey. Or follow the names Sunny Okosuns, Segun Adewale and the proto-Fela Geraldo Pino from Sierra Leone.
But whatever you do, dive headlong into the urgent music of Fela. It is the best best.
These Essential Elsewhere pages deliberately point to albums which you might not have thought of, or have even heard . . .
But they might just open a door into a new kind of music, or an artist you didn't know of. Or someone you may have thought was just plain boring.
But here is the way into a new/interesting/different music . . .
Jump in.
The deep end won't be out of your depth . . .