Graham Reid | | 3 min read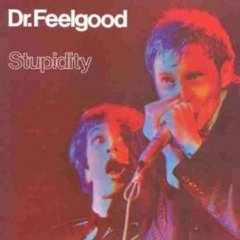 In his superb single Cry Tough of '76, the American singer-guitarist Nils Lofgren (a member of Springsteen's E Street Band since '84) namechecked the British pub-rock outfit Dr Feelgood, showing an awareness few other Americans had.
Dr Feelgood, from Canvey Island near Southend, at that time had released three albums in the UK and made a serious live impact for their gritty and energetic "rivvum'n'blooze " shows in the days before punk -- but had made absolutely no headway outside of the British touring circuit.
They were a band which had to be seen and heard live -- and they resolved half of that problem with their '76 album Stupidity, recorded at shows before noisy crowds in Sheffield and Southend.
From the opening blast of Chuck Berry's Talking About You through memorable originals by their manic and intense guitarist Wilko Johnson to the closer Roxette, Dr Feelgood's appeal suddenly made a whole lot of sense to those who hadn't seen them.
Here was a band with the same raw energy as the young Rolling Stones, Pretty Things and Downliners Sect of a dozen years previous, but with the accumulated firepower of pub-rockers used to having to deal with boozy audiences which demanded their rock'n'roll be loud, fast, memorable and, most of all, delivered with committment. Dr Feelgood scored in all categories -- and the evidence is on the astonishing Stupidity, one of the great live rock albums.
And it's instructive to put the band back in their context too: they had played the tough smoke-filled and pill-fuelled pubs and clubs in the south of England since '71, and their Down By The Jetty debut of '74 announced them as practitioners of the short-sharp-shock kind of rock'n'roll that was a long way from the music of their period. For the most part in '76 prog-rock bands like Genesis, Yes and ELO were cluttering up radio and newspaper columns, Wings were huge, and soft-rock was commanding home stereos.
In New Zealand when Stupidity was released at the start of '77 the album chart was topped by the Eagles' Hotel California and JJ Cale's laidback Troubadour, and further down were Joan Armatrading, Boney M, Hall and Oates, Olivia Newton-John and Jackson Browne. Into this crashed Dr Feelgood's sweaty, slightly soiled and undeniably raw sound.
"This was the culmination of the revolution against the stack heel and platform shoes brigade," said singer Lee Brilleaux later, "and everything that went with that. We said bollocks to all that, this is how a live band really goes to work."
With the music cut to the bare bone, with Brilleaux's rubbed-raw vocals and Johnson's powerhouse chopppy guitar and economic solos, and a rhythm section of drummer The Big Figure and bassist Sparko, here was a band that had clearly paid its dues on the live circuit.
They drew from Rufus Thomas (Walking The Dog), the dirty end of Leiber and Stoller (I'm A Hog For You Baby), Solomon Burke (the title track) and Bo Diddley (I'm A Man) -- but Johnson contributed the majority of the band's material. And memorably short songs they were.
Dr Feelgood possessed a punk energy but also kept one foot in the past. Brilleaux's honking harmonica was pure rock'n'roll blues of the 50s and 60s.
Stupidity -- which topped the British charts at the end of '76 -- should have been the great beginning for Dr Feelgood but it was actually something close to their end: pub-rock which had been around for years, largely unnoticed by the UK rock press, was on the wane, and punk was coming in fast. After Stupidity the band continued touring, their follow-up album Sneakin' Suspicion didn't do the business and Johnson quit (replaced by John Mayo). Then began 15 years of line-up changes until Brilleaux's death in '94.
A version of Dr Feelgood is still out there but Stupidity caught them with their strongest line-up and at a peak.
Allan Jones in Melody Maker said the album reaffirmed the Feelgoods as "one of the most vicious and electrifying r'n'b bands ever to strut their stuff on the planks". Put it on today and that assessment remains true.
Stupidity is bottled lightning.
Footnote: In 1991 an expanded version of Stupidity (entitled Stupidity +) was released with the two tracks which had been on the free bonus single (Johnny B Goode and Riot in Cell Block No 9) plus nine other live songs including Milk and Alcohol and Down at the Doctors from the '79 Mayo-era album Private Practice.
A very necessary prescription from the the good Doctor.
These Essential Elsewhere pages deliberately point to albums which you might not have thought of, or have even heard . . .
But they might just open a door into a new kind of music, or an artist you didn't know of. Or someone you may have thought was just plain boring.
But here is the way into a new/interesting/different music . . .
Jump in.
The deep end won't be out of your depth . . .