Graham Reid | | 3 min read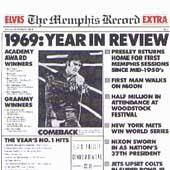 The consensus on Elvis Presley's genius among rock critics settles on two periods: his Sun Studio days in the mid 50s when he fused black blues and white country, and his famous '68 television special when he appeared wrapped in leathers for a menacing and sweaty performance which proved, despite all evidence to the contrary, that he still had the magic.
Go beyond critics however and another Elvis exists: at karaoke bars and weddings people will sing sentimental Elvis mid-period ballads such as Can't Help Falling in Love.
Yet there is another period -- of only a few days in January '69 in fact - when Elvis recorded a remarkable collection of career-defining songs. Unfortunately these classic songs -- among them Suspicious Minds, Gentle on my Mind, In the Ghetto and Kentucky Rain -- were distributed through subsequent albums (on From Elvis in Memphis, and the second album of the double set From Memphis to Vegas/From Vegas to Memphis) and singles. Thus the continuity and impact of what happened on those cold days in a small Memphis studio was dissipated.
After that powerful television special in December '68 Elvis was fired up to do live shows again and so was scheduled to undertake a high paying residency in Las Vegas in July the following year. But before he did so, almost without much forethought it seems, he booked in to the small American Studio in his hometown of Memphis which was run by producer Chips Moman, a man who had a reputation for being in control of his sessions, had a cracking in-house band, and could create hits.
It was the first time Elvis had been in a Memphis studio since the mid 50s -- although the studio musicians were less than impressed. "I mean we were thrilled about Elvis, " said trumpeter Wayne Jackson, "but it wasn't like doing Neil Diamond." Which just shows how low Presley's star had fallen.
Yet Elvis arrived, fitted in, let Moman take charge, and committed to lengthy sessions --23 takes of In the Ghetto -- because he liked the vibe of the place. He also had great songs to work with, some of which he brought himself and others chosen by Moman or pitched by those who seemed to know the kinds of songs that Elvis both needed and could bring real heart to. The material included soul-funk, edgy rockers, truck-drivin' country-rock, ballads on which Elvis showed rare restraint, and pure pop. And the tight band and backing singers were on the money the whole way.
Subsequently In the Ghetto gave Elvis his first top 10 hit in fours years and, better still, its social message made him relevant again -- and Suspicious Minds was his first number one single since 1962. Suddenly Elvis was back -- but it didn't last.
Within weeks he was making another lousy movie (Change of Habit with Mary Tyler Moore which, because of touring committments was his last for the Hollywood machine) and then on to his month-long stand at the newly opened International in Las Vegas. After that he went on the road, increasingly just churning out the hits, taking the pills and swelling up.
But The Memphis Record -- a collection of the Moman sessions released as a double album only in '87 -- puts the microscope on his genius. In these few days Elvis recorded songs that are as convincing to critics as they are appealing to those in karaoke bars. This was an Elvis which, once again, crossed all social boundaries.
Here are songs that are earthy and sung with real passion, some that meld gospel and soul, others that are funky and rocking -- and in Long Black Limousine (about a girl coming back home in fancy car, a hearse) a song which reminds you of the great American tragedy that was Elvis Presley's life and career. But in those few days in a Memphis studio the possibility of redemption and escape from the world that had been created around him was right there in his hand . . .
As Jay Cocks in Time wrote on the release of the collection of songs from those sessions, "The Memphis Record . . . is one of the greatest legacies of American music."
Alongside The Sun Sessions, this is essential Elvis -- and Essential Elsewhere.
These Essential Elsewhere pages deliberately point to albums which you might not have thought of, or have even heard . . .
But they might just open a door into a new kind of music, or an artist you didn't know of.
Or someone you may have thought was just plain boring.
But here is the way into a new/interesting/different music . . .
Jump in.
The deep end won't be out of your depth . . .