Graham Reid | | 3 min read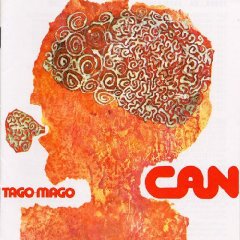 Only a rare band could count among its admirers and proselytisers the young Johnny Rotten, David Bowie and Brian Eno, eccentric UK rocker Julian Cope, and Bobby Gillespie of Primal Scream. Oh, and various contemporary classical composers, Thurston Moore of Sonic Youth, and post-hippie rock fans.
But then, Can from Germany were a rare band indeed.
Because the albums recorded in their decade-long career from '68 (they reformed briefly in '86) were so diverse and can be best read as part of an on-going project, the jury will always be out on what was their "best" album.
But Tago Mago (perhaps by virtue of it originally being a double album) certainly weighs in heavily. And within its seven tracks it seems to embrace everything from jamming guitars to techno/prog-rock and avant-garde jazz-rock, astral flights and trance music. And some wordless lyrics.
Although Can are invariably dropped into that somewhat shapeless genre called Krautrock -- alongside such diverse spirits as NEU!, Tangerine Dream and Kraftwerk -- they really belong to their own category. And they still sound contemporary, which isn't something you can say about many early Seventies bands.
Can were more than the sum of their parts, but their parts were impressive: bassist Holger Czukay and keyboard player Irmin Schmidt had studied under Stockhausen, and drummer Jaki Liebezeit had played free jazz so was used to improvising to propel others.
They were also a product of their volatile times (the '68 student uprising in Europe, the Stones' Street Fighting Man, Jimi Hendrix). Guitarist Michael Karoli -- one of Czukay's pupils -- was fan of Frank Zappa, the Velvet Underground and Hendrix. When the volatile "singer" Malcolm Mooney arrived, a black American whose wild babbles, screams and moans added tension, the parts were in place.
After just one album however -- Monster Movie in '69 -- it was clear Mooney was psychologically disturbed and he went back to the States. The remaining members recruited a Japanese busker, Damo Suzuki. His contributions were to sing in a weird, wordless language of his own invention -- which only added mystique to the short tracks on their Soundtracks album ('70)
It is Tago Mago released the following year however which captured them at their most musically expansive -- two pivotal pieces are over 17 minutes long, most others over seven -- and on conceptions like Aumgn, a dense and abstract piece which sounds like it is being dragged from the ocean depths, they stepped courageously beyond any conception of rock, jazz or even avant-garde. They were just Can.
The music is structured but improvised and you can hear small sonic ideas -- a guitar figure, percussive element, piano part -- being given time to grow by the other players. Some instruments work their way to the foreground as others almost evaporate -- and yet you never get a sense of any approaching "a solo". This was organic and integrated music which owed a little to the early British psychedelic scene (Pink Floyd in London) and The Velvet Underground in Warhol's loft, but also to what we might call ambient music and techno. Even now it seems to exist within its own emotional space also. And is sometimes unnerving.
Recorded in Conny Plank's studio, Tago Mago also contains the piece Halleluwah which was edited together rhythm loops -- as were many Miles Davis albums of the early 70s. For the band and the producer, this was experimental music of the most high-minded kind, for listeners it is an extraordinary and unpredictable sonic experience.
Can recorded a number of other equally interesting and different albums --Ege Bamyasi of '72 and Future Days of the following year are worth checking out -- and the individual members (aside from Suzuki who quit in '73 to become a Jehovah's Witness) went on to work with many other artists in diverse projects; notably Czukay with Jah Wobble, U2 and David Sylvian; Schmidt on film soundtracks.
You can follow any number of threads out of Tago Mago -- a Google of Conny Plank will get you to the quiet genius of Cluster, Brian Eno and Kraftwerk, or you could locate a copy of Julian Cope's book Krautrocksampler.
Hang on for the ride with the challenging and very wonderful Tago Mago though, the second half can get pretty hair-raising. In a good way.
One critic wrote of this alarmingly interesting album, "Panoramic is too small a word".
These Essential Elsewhere pages deliberately point to albums which you might not have thought of, or have even heard . . .
But they might just open a door into a new kind of music, or an artist you didn't know of. Or someone you may have thought was just plain boring.
But here is the way into a new/interesting/different music . . .
Jump in.
The deep end won't be out of your depth . . .