Graham Reid | | 4 min read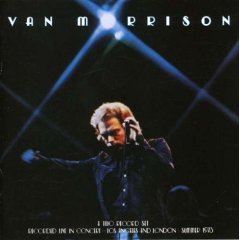 Anyone coming Johnny Rogan's thorough and sometimes exhaustive biography of Van Morrison, No Surrender, to find out why Morrison is such a curmudgeon will learn soon enough: it seems he has always been a grumpy, sullen and, when young, an occasionally violently surly character.
As a child he had lamentable social skills and was terribly uncommunicative. As a teenager, girls found him annoying and boring, and when he started making music he would be truculent and unco-operative with bandmates. He was a sour and regular drunk.
There seems no reason for any of this, although his early experiences of commercial success with the group Them -- during which they were, as with most bands of the period, ripped off by smart management -- left him bitter about the music business, even to this day.
All this -- plus Rogan's persistent recounting of the Troubles in Ireland which provide a backdrop to Morrison's Belfast childhood -- are given plenty of play in a frequently unflattering but well-researched life of a man who rarely gives interviews (and not for this book), and is often litigious when biographies appear.
But of course Morrison also made some of the most sublime and spiritually inspired music in rock.
Despite his moodiness, Morrison was a musical conduit who could channel visceral American soul and blues through his Irish heart and then, in America and away from the constraints of the politicised Belfast scene, explore the mystical side of himself. Once he'd stopped drinking a bottle of vodka before shows.
Rogan is especially good in conjuring up the young Morrison's powerful performances in pubs and clubs around Belfast and although various band members and fellow travellers line up to attest to Morrison's testiness and personal problems, Rogan balances those unfavourable testimonials by equally throwing the focus on the music.
He argues persuasively that whereas Astral Weeks (1968) has become the best loved album of Morrison's long career, other albums (notably Veedon Fleece in 1974) are as inspirational and of great emotional and spiritual depth.
But for those who have endured Morrison's recent tedious output (or enjoyed the very rare exceptions like Keep It Simple)and are wondering where to look for a definitive Morrison album -- the one that captures the energy, soul and rock'n'roll spirit -- should look no further than It's Too Late to Stop Now of '73.
Some background: after his short-lived band Them broke and he had lit out for the States, Morrison began recording a series of excellent and innovative albums, notably Astral Weeks and Moondance on the cusp of the 70s. By '73 however there was sense his muse was failing him and Hard Nose The Highway of that year met with a cool reception.
The odd thing was that at the time he had his best band -- the Caledonia Soul Orchestra to which he added a brass and string section -- and had become a blistering live performer. His concerts at the Rainbow in London and the Troubadour in LA became the stuff of legend. He had a back-catalogue of great songs to draw on from, Gloria and Here Comes the Night from his earliest days through Astral Weeks to Saint Dominic's Preview.
And that is what appears on It's Too Late to Stop Now, originally a double-live vinyl set drawn from shows at the Troubadour, Rainbow and Santa Monica's Civic Auditorium -- and it is thrilling.
"With Caledonia," said guitartist John Platania, "he really got off on performing. There was definitely joy getting onstage at that point. That was a wondereful time for everybody. It was really like a family. Ordinarily with rock'n'rollers, jazzers and classical musicians in the band, you'd think it was a three-headed serpent, but everybody got along famously."
Interestingly there are no overdubs on the album and so what you hear is what you got on the night(s): and what people got was effectively a greatest hits live but with expansive tracks like the exceptional Listen to the Lion and Morrison's embellishment of lyrics with odd phrases, grunts of energy and strains of emotional pain.
At a time when the double live album was a commonplace -- and often a stopgap for hard-touring bands -- this was one which stood apart from the pack. Myles Palmer in The Times said that on it "all barriers between the soul, blues, jazz and rock genres" had been demolished. The Record Mirror announced Morrison as "the voice of rock'n'roll" and Robin Denslow in The Guardian said "Morrison has become arguabaly the finest white blues singer in the world."
And then, as has been so typical in the career of His Grumpiness, Morrison announced the Caledonia Soul Orchestra was no more.
In the late 80s Q magazine sent Spike Milligan round to interview Morrison, a longtime Goon fan. Morrison was typically evasive and uncommunicative so Milligan went outside, took his clothes off, put on a fake penis nose and came back in. Only then did Morrison lighten up.
Milligan said later: "Fucking hell, you have to do a lot to make him laugh!"

And that has been Van Morrison these past three or four decades: a surly bugger capable of periods of brilliance. In the past decade or so he has resorted to some familiar vocal signatures and cliched writing -- but at his best, as he was for It's Too Late to Stop Now -- he was untouchable.
The album has been reissued with the addition of Brown Eyed Girl as part of the on-going remastering series of his albums. It will find a welcome place in any serious album collection -- and is a doorway to Bobby Bland, Sam Cooke, Sonny Boy Williamson and Willie Dixon whose material he covers, or can be the start of a journey into a selective investigation of a man about whom promoter Harvey Goldmsith once noted, "when he's on stage there's no one to touch him. But when he's off stage he's unbearable".
These Essential Elsewhere pages deliberately point to albums which you might not have thought of, or have even heard . . .
But they might just open a door into a new kind of music, or an artist you didn't know of. Or someone you may have thought was just plain boring.
But here is the way into a new/interesting/different music . . .
Jump in.
The deep end won't be out of your depth . . .