Graham Reid | | 3 min read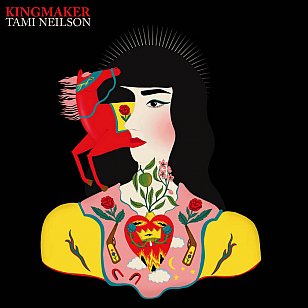 From time to time Elsewhere will single out a recent release we recommend on vinyl, like this one which comes with a beautiful and framable cover insert sleeve, the lyrics and the essay by Dr Jada Watson in a typeface size you can read. And on scarlet vinyl also.
Check out Elsewhere's other Recommended Record picks . . .
.
Although Covid thwarted Tami Neilson's 2020 American tour to promote her critically acclaimed Chickaboom! album, her new Kingmaker couldn't be more timely in capturing the zeitgeist of that country where women from sea to shining sea are seething at the Supreme Court decision to overturn Roe v. Wade.
Kingmaker – with themes more specifically aimed at the American market than her previous releases – is replete with pertinent lyrics about female empowerment, the marginalisation of women, misogyny and exploitive men.
But always wrapped in Neilson's songcraft and delivered by her tight, empathetic band of guitarists Brett Adams and Neil Watson, bassist Chip Matthews and drummer Tom Broome (the latter two of the Miltones).
From the opening title track which has the breadth, power and drama of Shirley Bassey belting out an orchestrated, spaghetti western-influenced Bond theme of self-assertion and confidence ("It's my blazing light that made your shadow tall . . . and I've always been a King after all") to the closing bluesy jabs and parries of Ain't My Job this is an album conceived as a barbed, country music manifesto.
It's a point reenforced in liner notes by the University of Ottawa's Assistant Professor Dr. Jada Watson of the analytical SongData Project, with whom Neilson collaborated in a music-cum-lecture The F-Word: Songs of Feminism in Country Music.
Article continues below the clip.
Here too however is the power of memorable simplicity in song: both Careless Woman and King of Country Music are as catchy as clapping or skipping games, and as with many such children's rhymes there are messages. In Careless Woman she sings, "she play too rough, she laugh too loud, she talk too much, I wanna be her when I grew up. I wanna care less". And the line about legislating a woman's body couldn't be more apposite.
The autobiographical King of Country Music posits the king could be "the daughter not the son" and observes as a woman in the male-dominated country music industry, "[you] ain't gonna hear me on no radio station. That's okay, I tend to get above my station anyway".
As always, Neilson opens her sensitive heart too. The ballad Beyond the Stars with Willie Nelson (co-written by Neilson and Delaney Davidson) – which could open radio-play doors in the US – reflects on Neilson's loss of her father and so deftly touches the Tex-Mex norteñospirit, it cries out for a Spanish-language version with accordion.
I Can Forget is also a timeless, moving ballad of loss (with a lush string arrangement by Victoria Kelly) and The Grudge's autobiographical quality adds even more emotional resonance. But while some songs spring off Neilson's own story the larger text is she's in this for all women.
Green Peaches co-written with her brother Jay invokes a sophisticated Bobbie Gentry narrative about the sexual harassment of a promising young woman country singer, set it in South Carolina with Southern soul backing by the Careless Women Choir (Anna Coddington, Bella Kalolo-Suraj, Julia Deans and Vanessa Abernethy).
As Dr Watson says in those pointed liner notes addressing the marginalisation of women in country music (among other things), "Tami's album launches a series of explosions that disrupt patriarchal and colonialist systems, break cycles of of abuse and forges a new path for country's feminist killjoys to take what's already theirs. The daughter, not the son".
There's cold anger, warm emotion and acerbic wit across Kingmaker and Tami Neilson -- too long labouring under the local cliché "world famous in New Zealand" -- tartly redefines herself here as "most famous girl no-one heard of yet".
It's a neatly loaded word that "yet".
.

There are album reviews, interviews and a video essay at Elsewhere about Tami Neilson, start here.
This album is available on limited edition vinyl through Southbound Records, Auckland. See here.
.