Graham Reid | | 1 min read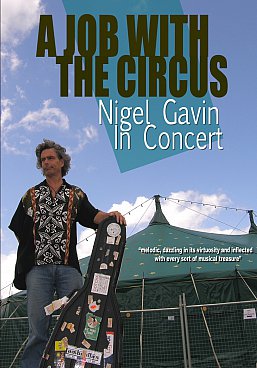 When I wrote the liner notes for Nigel Gavin's excellent Visitation album from late 06 I described him as "a musician without portfolio, a guitarist/composer whose work comfortably commands many different styles".
Confirming that assessment were the list of people/bands he had worked with to that point: the Nairobi Trio, the Jews Brothers, the guitar orchestra Gitbox Rebellion he founded, Robert Fripp, Lorina Harding, Whirimako Black . .
But I also said that Gavin was under-represented by a sound solo album - and that's what Visitation was.
Now comes this up-close and in-concert DVD beautifully shot by Wellington film-maker Costa Botes whose previous work has included Struggle No More (the superb doco of New Zealand's least ambitious band, the Windy City Strugglers), and a profile in music of bluesman Dave Murphy which appeared at Elsewhere previously.
Botes also captured the spirited Hobnail Boots and the Shot Band live at Paramount in Wellington.
Botes knows how to shoot musicians, he gets out of their way and takes the viewer in close. Watching his films you rarely sense the presence of the film-maker, but you certainly get a feel for the artist and the music.
This live showng by Gavin before a small and attentive audience is about as intimate as it can get without you actually being there. And oddly enough sometimes you forget that Gavin is also there, his music seems to have come from the air and gone directly to the fingers on the neck of the guitar.
Beautifully shot and scrupulously recorded, what you get is astonishing acoustic music from a man who draws from many musical genres and sources to create something his own.
For more information on Costa Botes' music DVDs he can be contacted here: lone.pine@paradise.net.nz