Graham Reid | | 1 min read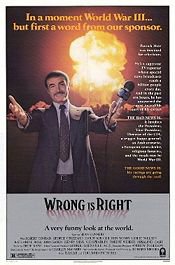 The images could come from today's headlines or tonight's television news: an Arab leader meeting with a top terrorist; remote controlled bombs in a rubbish bin; suicide bombers; satellite surveillance of terrorist training camps; death and violence as televised entertainment; chequebook journalism . . .
For a comedy the little-known 1982 Sean Connery movie Wrong is Right sure feels pretty damn serious.
Written and directed by Richard Brooks (Key Largo, Cat on a Hot Tin Roof, In Cold Blood) from the novel by former CIA-man Charles McCarry, it is a broad and sometime unsubtle satire about the expediency of politicians and television channels which is both cynical and serious, farcical and funny.
It is shot through with killer lines ("The US of A may not always be right, but God knows we're never wrong," says a gung-ho general), historical references (the Oval Office bugged by a Nixonian president who has a cute dog), and the images on screen can be terrifyingly familiar (Arab demonstrators outside a US embassy).
In tone it veers from starchy James Bond adventure with a smidgen of Austin Powers to its deadly serious subtext akin to Dr Strangelove, Network and The Parallax View.
Yes, Wrong is Right -- which also invites comparisons with Wag the Dog and Bulworth -- is a very strange, sometimes chilly, but mostly funny series of haymaker shots at American life and politics.
Connery plays television news frontman Patrick Hale, a man with a late-blooming conscience, who is neither journalist nor investigator but an actor who fronts a macho-style news programme which gets him into the frontline of terrorist camps and the Oval Office with equal, and equally implausible, ease. When two suitcases containing atomic bombs are stolen he follows the trail through a world of political intrigue, CIA dupes and psychopathic terrorists (Bin Laden-like leader Rafeeq played by Henry Silva).
If it didn't have so many prescient references to recent history (the Twin Towers, bombs in Israel) it would be a hoot.
Lines like this just pop out: "What's happened to the American image? Why has America become a dirty name?" And this from the president: "If the people knew the truth we'd all be out of a job".
Or this exchange: "Would they actually bomb New York?" "That's an act of war!"
With a US president who has an in-house religious advisor and a black woman as vice-president (actress Rosalind Cash looking uncannily like current secretary of state Condoleezza Rice) there is something unsettling about this comedy.
As a swipe at television it is cynical and brutal: "Nothing happens until it happens on television" is the running thread as terrorists and anchormen time everything for the nightly news.
And this slightly wayward, overlong but eerily engrossing film -- from 82 remember -- delivers withering and timeless lines like these almost as an aside.
"The president's word is suspect, right?" says the president.
"These days, yes sir."