Graham Reid | | 1 min read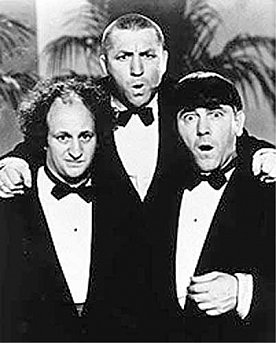 The debate about the amount of violence on television isn't going to end soon. There are too many people doing well-funded research for it to die quietly. By the time kids get to school they have seen, oh just heaps, of violent acts on television.
They've also seen lots of programmes about sharks, but has anyone conducted a survey about just how much the average five-year old knows about sharks? If kids assimilate what's in front of them you'd think they'd all be experts.
Perhaps most kids can filter out the violence on cartoon shows from the real thing, just like their grandparents who went to the pictures and watched The Three Stooges. From the early 30s to the late 50s the Stooges churned out one violent, slapstick short after another. Hundreds of them, all full of Moe poking Curly in the eyes, slapping each other with planks, and fingers being slammed in doors.
Violent? Certainly.
Irresponsible. Maybe.
Funny? Yessir.
There's a DVD reissues of five Stooges shorts on the one disc and there are no redeeming features in any of them. They are just dumb, violent comedies built around the weakest of ideas: in Squareheads of the Round Table the Stooges are troubadours trying to get a blacksmith together with his true love who happens to be King Arthur's daughter; and you can guess that in Tricky Dicks they were detectives.
Rumpus in the Harem (1956) was a remake of their 49 short Malice in the Palace in which they try to stop a girl being sold to a sultan.
Aside from the knockabout fun, poor jokes and slightly cringe-inducing race stereotyping of years gone by there isn't much to recommend them if you want something beyond a few cheap but physically hurtful laughs.
But there is something interesting in this collection: Rumpus in the Harem was filmed just after Shemp died in late 55 and Moe and Larry had to act around a body double and footage of him from the earlier short as if he was still there. They did much the same for Hot Stuff (56) using footage from their 49 short Fuelin' Around.
There were six Stooges in total down the decades, but it really didn't matter who was a Stooge. All he had to do was roll with the punch … or the slap, eye-gouge or the brick falling on his head.
If mindless violence is your thing then definitely check out The Three Stooges.
Someone once asked former Velvet Underground member John Cale if there was too much violence in the world.
He said there was exactly the right amount.