Graham Reid | | 2 min read
The breathtaking opening shot in this documentary - a single, walking-pace, almost silent, dolly shot through a seemingly endless, multi-purpose factory in China which runs a full seven and a half minutes -- is so compelling in its impact that it has somewhat blinded many writers to what follows.
Canadian photographer Edward Burtynsky, the subject of this doco by Jennifer Baichwal, takes huge images of landscapes which have been created by Man, whether they be the enormous canyons of quarries, polluted rivers which run red through a blackened earth, or mountains of computer parts piled so high they look like a weird hill in the environment.
As he travels around China in search of these often appalling handprints of Man -- some however possessing a strange, abstract beauty -- it is easy to point the finger at China's rapid industrialisation and drive to urbanisation, and find in it yet another reason to berate the Chinese for their careless disregard for their environment.
While the Chinese track record in environmental protection practices is atrocious, in a small aside at the beginning Burtynsky says his epiphany in considering Man's impositions on Nature actually came when he saw a surreal landscape created by a coal mine in Pennsylvania.
Reading this film more as a moral essay on industrialisation allows you to see China as simply the compelling example, but not alone as the perpetrator of these awful crimes against the Earth.
And as Burstynsky notes, it would be easy for him to be political in the images he creates, but by taking them out of that highly charged context and placing them in art galleries he is allowing people to make up their own minds about what they see.
Certainly his camera is selective, but in these sometimes terrifying images of the raping of the environment the message is abundantly clear: the drive to modernisation and rapid urbanisation in China, as elsewhere, is destroying the planet and having a profoundly debilitating effect on the humans caught up in it.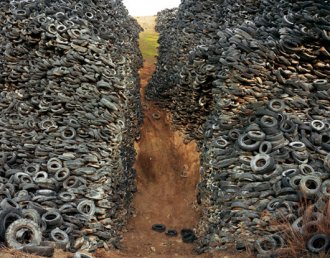 Images of whole old blocks of Shanghai where generations grew up in tiny house and snaking alleys only to see them replaced by soulless high-rise send their own message.
These new landscapes of factories, apartments, quarries, garishly coloured waste and excrement in rivers and lakes, and those mountains of waste parts through which people forage like so many insects are the price we pay for not wanting to give up what we have.
And in image after image -- a man riding a bicycle through a blasted landscape destroyed by pollutants -- the subtext is of the tragedy, and of the that price we are most often asking others to pay.
Manufactured Landscapes -- which comes with an interesting interview with the photographer and director -- finds a distorted, visual beauty in these landscapes also and Burtynsky's photos require a long look to see that the brightly coloured mountain is actually made up of tiny computer parts.
The imposition of the geometry of Man -- roads, railway lines, deep and symmetrical gouges -- in the landscape is often terrifying in its scale.
In its own way this excellent, multi-award winning doco is a companion to both Koyaanisqatsi and An Inconvenient Truth, without the drama of the former or the preaching tone of the latter.
It makes compelling viewing from that extraordinary opening sequence through the final chilling frames.