Graham Reid | | 1 min read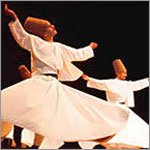 In these post -9-11 days it is odd to consider that the biggest selling poet in America in the Nineties was Islamic. The deeply philosophical works of Rumi, a poet of the Sufi branch of Islam, were outselling the biggest names America had to offer.
And in the world of music the elevating sound of the late Nusrat Fateh Ali Khan was being hailed by the likes of Jeff Buckley, Eddie Vedder of Pearl Jam and Joan Osborne.
His Mustt Mustt album on Peter Gabriel's Real World label (which came with a remix of the title track by Massive Attack) was one of the label's biggest sellers. He too was a Sufi.
Sufism, an intellectual and enquiring offshoot of Islam, is deeply rooted in Islamic cultures across the globe -- the Middle East, North Africa and the Indian subcontinent particularly -- and in each region it takes on local characteristic. The famous whirling dervishes of Turkey are Sufis, the yearning qawwali sound of Pakistan as performed by Ali Khan is a different manifestation of the same thought.
While anti-modernist Islamists would ban singing, dance and musical instruments as diversions from the true path of devotion and subservience to Allah, Sufi cultures are rich in these traditions -- and that is the subject of this doco by the noted English travel writer, historian and longtime resident of New Delhi, William Dalrymple.
A scholar who is knowledgeable about the great religious, philosophical and cultural aspects of Islam, Dalrymple makes a journey through half a dozen countries to explore the peaceful and pluralistic nature of Sufism -- and uses music as the framework. The subtitle of this doco is "the mystical music of Islam".
The result is a fascinating travelogue punctuated by extraordinary voices, from the trip-hop clubland Sufi sound of Mercan Dede to powerful presences such as Adiba Parveen.
There is an exoticism here too: the nature of dances in which believers enter trance states; the colours of marketplaces and the decorative beauty of temples, homes and clothing.
At its core Islam has a common origins with Christianity, and the nature of this documentary allows for the benign and peaceful middle ground of Sufism to be revealed at a time when rather too many would set up the great faiths as polar and violent opposites.
Directed by Simon Broughton -- long a commentator on world music and editor of Songlines magazine out of the UK -- this fascinating 45 minute film (with an additional 35 minutes of separate music performances) is an adventure, a journey and a discussion.
All are worth participating in.