Graham Reid | | 1 min read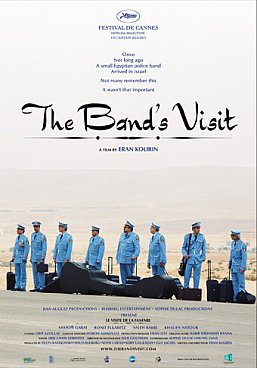 This beautifully composed, delightfully understated Israeli film is at Elsewhere not because it is about music -- an Egyptian police band adrift in an unattractive town in Israel -- but because it is about silence.
There is an ineffable sadness behind the thin veneer of wry humour and the astute observation of characters and gestures, and that is conveyed not through words but passages of eloquent silence which hang heavy with meaning.
While there is some strange chemistry between two of the characters -- Sasson Gabai as the band's leader, Ronit Elkabetz as an Israeli shop owner who accommodates them -- it is the lack of connections made in The Band's Visit which elevates it above being a minor comedy. It is a breath away from being tragic in fact.
The barely stated subtext about relations between Egypt and Israel sits quietly behind the story, as does the soulless and arid town in which the small drama is played out. As Elkabetz's character Dina notes, this is a town without culture, and the artfully lit, generously spaced images of empty roads, the neon-soaked diner, concrete park and more reenforce the emotional and social barrenness.
The plot is remarkably simple -- a police band from Alexandria ends up in the wrong town and is obliged to stay the night -- but it is the cast of characters who slowly reveal themselves, and the relationships between them, which is at the heart here.
The unfinished concerto that one band member plays is listened to in silence by two Israeli men and you are uncertain whether they feel its sadness or just sympathy for the character who has abandoned it.
The Band's Visit probably bears little relation to how matters might be between ordinary people in Israel and Egypt, but their common ground is the deep well of disappointment which seems to inhabit everyone here.
Yet for all the slow melancholy this is not a sad film. Every character also has strength and you sense that the lack of hope and promise perhaps stems from the dreams deferred and denied but not abandoned altogether. Better to have dreamed than not.
A multiple award winner at many film festivals, The Band's Visit -- a debut feature by television director Kolirin -- will linger long after the final, moving, lyrical and unexpected song has faded.