Graham Reid | | 3 min read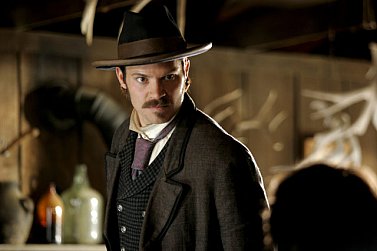 There are few more quiet characters on television than Sheriff Seth Bullock who broods with repressed menace throughout the gritty Western series Deadwood. His dialogue usually comes down to a few lines like, "I appreciate your kind concern" or "Don't!"
Yet get 38-year old actor Timothy Olyphant -- who plays the moustachioed and troubled hunk -- on the phone and the man is unstoppable: he gets away the usual PR cliches ("the show has been successful and I couldn't be more proud of it") and his familiar background story (he only became aware of the potential for great television roles when he got HBO and saw his friend Dominic West in The Wire, so called his agent to see what parts might come be coming up on HBO).
But he also embarks on free-ranging digressions about his character's unspoken motivation, the award-winning show created by David (NYPD Blue) Milch now in its third season, the controversial language that first drew attention to Deadwood, and the large ensemble of characters who move in and out of each episode.
But mostly it is his character -- a proud man of good intentions -- that he discusses in a way which suggests he too is still finding out about Bullock.
He admits when he saw Milch's sketchy script for the first 12 hours he was baffled by the source of Bullock's seething rage. The pivotal character of saloon owner Al Swearengen (played by Ian McShane) was dominant and obvious "but you could barely get a handle on Bullock".
Milch spoke at length about how Bullock -- like other central characters in Deadwood based on an historical figure -- would develop and "each thing he told me was more compelling than the next."
What Milch didn't explain to the audience however -- although he explained it to Olyphant -- was that maybe as a child Bullock had been regularly beaten by his father.
"So I asked, 'Are you going to tell the audience that too?' But David's willing to put this behaviour in that is not explained or in the story."
That makes Bullock a difficult character to get a handle on.
"Bullock is the complete opposite of Swearengen who you see as deliciously evil. After a while Swearengen has some good intentions, where Bullock sets out seemingly with great intentions but is constantly doing things that push people out. You try to like him but he's so difficult to get a hold of. So it's been challenging to play this character where you have to be willing to be unpopular."
Set in the lawless mining camp of Deadwood in the disputed Dakota Territory in the late 1880s -- with Chinese workers, prostitutes and outlaws prowling through the muddy and violent town -- the series drew immediate attention for its expressive and extensive profanity.
"Yeah, my Mom called the ladies at church and said they'd not be able to watch it," laughs Olyphant.
Before treading the boards in the theatre and making the move to film and television (appearances in Sex and the City, and My Name is Earl), Olyphant was a competitive swimmer at the University of Southern California.
He has had spots in a number of feature films before taking his career to the small screen, among them The First Wives Club (1996), Scream II (1997), Go (1999), Gone in 60 Seconds (2000), Rock Star (2001) and The Girl Next Door (2004).
But it was the density of the emotional ideas behind Deadwood which attracted his attention, and the language which is often demandingly archaic, sometimes absurdly overstated and occasionally deliciously poetic.
Olyphant says when he told friends he was doing a Western he would qualify it "and I'd say, 'it's kinda like Shakespeare'. But that sounded so pretentious, although that's exactly what it is -- and that's been validated when critics said the same thing."
"When an episode is over you're disappointed that everyone doesn't talk that way."
Added to the often complex dialogue is the revolving cast of characters who come and go.
"Anyone in the cast not based on a historical character is in jeopardy. Nobody knows what is happening, it's all in David Milch's head. We don't get script pages until the day before, sometimes only on the day.
"With the exception of Ian and I, you really don't know who is staying because there are so many characters Milch is servicing, and some can dominate two or three episodes and then disappear for a while. The show is always about the camp of Deadwood."
With 22 Emmy nominations and a Golden Globe in its first two seasons, and a third season almost finished, Deadwood has had a remarkable run of Sopranos-like acclaim.
"This was the first time I got a job where I prepared for the success rather than the failure of a show. I knew there was something special. It's one thing if something is heady and smart, complicated and dense, but there was something with this that just appealed to a broad audience because it was not too different to any great drama, it had tension and a great cast of characters.
"When Swearengen and Bullock aren't on the screen you don't really miss them because all these other strong characters are making the show. I find when Brad Dorf (who plays Doc Cochran) is on the screen I think the show is about him, when Bill Sanderson (E.B. Powell) is there I think it's about him. That's rare in any show."