Graham Reid | | 3 min read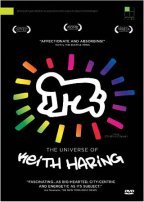 By the time I got to see the work of New York-based artist Keith Haring in the early Nineties there was little to "see": he was everywhere.
The originality of Haring's work -- as with that of Australian Ken Done whose briefly interesting landscapes and Australian icons had their currency debased by reproduction, commercialisation, parody and an increasing self-reflective repetition -- had been diminished through their ubiquity.
Haring's cartoon-like figures were on walls, posters, coffee cups, t-shirts, bags . . . He even had his own Pop Shop merchandising outlet in New York.
In the years before his death in 1990 at 31 of Aids-related illnesses, Haring had been embraced by the hip and chic. But unlike Warhol (who befriended him) whose work refered to commercial product so had a subversively ironic or satirical commentary, Haring's neo-primitive figures were entriely his own conception. His brief period in an art school in Pittsburg was largely irrelevant as he made his images and name in a very different social and cultural context.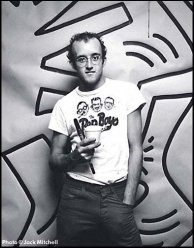 Schooled in semiotics so aware of the power of symbols, language and repetition, Haring came through at a time when graffiti art and hip-hop culture were making a direct impact on New Yorkers, they were intervening in public spaces.
The music of the early Eighties which Haring loved (the B52s, Devo, hip-hop) was also being assimilated into the visual arts and Haring was out there taking his rapid-fire drawings onto walls in subways. And in fact, as this quite moving doco shows, to just about everywhere there was a surface for him.
Haring's figures -- with their cartoon simplicity and the assurance of his bold lines -- were infinitely malleable and adaptable, easy for him to create quickly on a given surface, and lent themselves to themes which were sexual, political and often simply joyous.
As this 90 minute film (with many interviews with Haring, his family and friends and period footage) shows, Haring was an enthusiast for taking art to people (in the manner of graffiti artists) and so interposed his drawing wherever he could.
Indeed by the late Eighties he was being advised to stop drawing on every pieces of paper or clothing that people handed him. He was astonishingly prolific: he did a Jeep and BMW, sneakers and shirts, bags and jackets, canvases for high-end galleries and smart dealers, and massive murals, among them a church wall in Pisa.
Haring's period was also one where traditional galleries -- having missed early Warhol and not wanting to make that mistake again -- were wanting to buy up the work of street artists such as Jean-Michel Basquiat and graffiti artists. Haring's out-going nature endeared him to those with large pocket books and gallery space for him to create in.
But as one friend observed of the set Haring was in, "money changes everything". Haring's fellow travellers realised here was a way to not only get their art out but an income in.
Yet Haring seems to have stood apart from that. His store which opened in '85 was bringing in more money than he could count and commissions were coming thick and fast.
And so, right up until a month before his death, he was painting.
By the mid-Eighties Haring had become global brand within just a few years of his sudden appearance on the New York scene. His work was recognisable in Europe and Japan, South America and across the United States.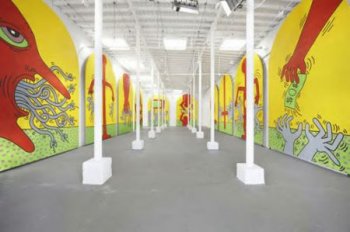 He emerged from the rolling maul of sex and drugs in the pre-Aids era and the decadence of New York in the Eighties to take his place alongside Warhol as a master of commercialisation, but more so . . . as an artist whose work (remarkably all done without prepared sketches) enlived the world of children's hsopitals and libraries, art galleries and street corners.
Keith Haring's work is as distinctive as his fingerprint and as this film portrait shows -- sometimes unflattering, but a man clearly loved by his fellows -- it made a powerful impression on his world, and beyond.
In the end he may have become Haring Inc and his output too prolific to allow it to be "seen" with any fresh eye today, but this astute doco shines a sharp light on a time when his unique vision was vital and alive. And his murals in public spaces are still affecting today.
Despite the t-shirts, posters, coffee cups, postcards . . .