Graham Reid | | 2 min read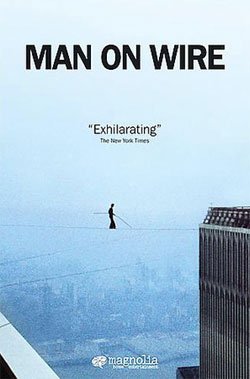 Anyone who ever stepped out onto the roof of one of the Twin Towers would have been struck by three things: the view from that height; that height when you looked directly down; and the power of the wind at that height. The notion and reality of "height" was everywhere.
My recollection of all three simply came down to one word, "Wow!"
The World Trade Center towers were a miracle of modern -- if flawed, as we learned -- engineering and to stand on top was to feel a sense of exhilaration. Philippe Petit however saw them somewhat differently: as a wirewalker his dream -- from childhood when he first heard the idea of the two towers mooted -- was to walk on a highwire between them.
As he notes in this thrilling, often very funny and always compelling documentary, he had "acquired my dream" when as teenager he saw the idea for the towers in a newspaper, but unlike most dreams his wasn't tangible until the towers were built. And when they were he and a small group of co-conspirators plotted his aerial balancing act which makes for a remarkable story of planning, patience and execution against the odds.
As exciting as any thriller, this film traces that story of when -- in August '74 -- he walked between them by using remarkable period footage, re-enactment, interviews and still photographs. And that rarity, appropriate music: Vaughan Williams and Satie are among the pieces played at exactly the right moment.
There is tension, drama and adventure here with the possibility of discovery at every stage, but also a slightly farcical element from those days when, while checking the place out, they could simply bluff their way onto the building site by posing as a French journalist and photographer.
In that sense this is also a film about a time of innocence, when those towers -- so beautiful and now but an imprint in memory -- stood as symbols of something assured and immoveable.
The story is given drive by Petit's narration in contemporary interviews which is delivered in an impassioned present tense but also enlivened by his poetic spirit: he speaks of the wirewalker being "framed by death", as indeed he is.
Many who want to fulfill their singular ambition -- solo round the world yachties and the like -- expect others come to their rescue and thus endanger their own lives if things go wrong. Not so a man who balances on a cable some 104 storeys above the ground. One slip and there is no hand to reach out.
Petit's "crime" was also an extraordinary piece of artistry and he is a man who, for 45 minutes high above New York, conquered air as much as the wire.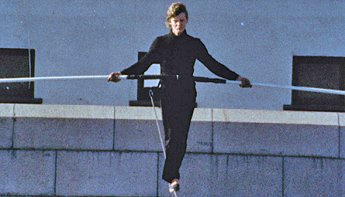 But as this film makes clear it was also the end of something, and therein lies the pathos.
This is a remarkable documentary and a salute the triumph of a singular vision which everyone could admire. The lead-up also includes footage of his previous achievements, among them walking between the towers of Notre Dame and two towers on the Sydney Harbour Bridge (the latter the subject of a very funny short film also included among the extras).
A must see, possibly inspiration, DVD -- a film which rightly won best doco at the Oscars and in many other film festivals.