Graham Reid | | 2 min read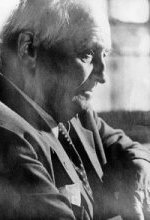 American film-maker Robert J Flaherty (1884-1951) from Michigan was a man who liked to explore lives on the edges of his known world: he went to Inuit territory to film his pseudo-doco Nanook of the North of 1922 (which, along with actor Anthony Quinn, allegedly inspired Bob Dylan's Quinn the Eskimo); Samoa for Moana four years later (Flaherty also co-wrote Tabu with F.W. Murnau in '31, another South Seas drama) and to Cajun country for Louisiana Story in 1948.
These pseudo-docos -- he would impose a storyline on the footage and ask people to re-enact events against the backdrop of their world -- were enormously popular in their day as they appeared to show Man against the Elements and the indifference of Nature. They were the National Geographic of the silver screen and even today their black'n'white doco quality is quite compelling.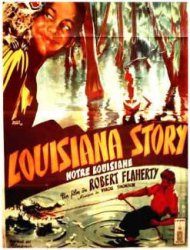 For Man of Aran in'34, Flaherty went to the sea-battered and windswept islands of Aran off the west coast of Ireland where small communities eked out a living from fishing and survived by growing potatoes in seaweed on these barren but dramatic rocky outcrops where there is no soil.
Aran, frankly, looks like a bloody awful place and Flaherty's docu-drama pits the locals against the crashing sea, the howling wind, the stark rock and the glowering sky which often fills the top two thirds of the screen. Figures in black silhouette walk intrepidly beneath huge thunderheads and through spray-swept landscapes.
As in his other films Flaherty imposes a narrative on the footage and asked these hardly locals to hunt basking sharks using hand-held harpoons (they hadn't done this in decades) in a boat no longer than these massive creatures.
This is high drama but in its quasi-social realism also has an epic quality which these days looks faintly absurd (although Flaherty mostly avoided close-ups of heroic and determined jut-jaw faces that was the hallmark of Soviet social-realism).
Yet the relentless power of the sea, the sheer cliffs which drop hundreds of meters into the roiling ocean which is white with surf and spray, and the hardiness of the folk (not to mention their slightly strange attire of large tams, and billowing skirts on the women) makes for fascinating viewing.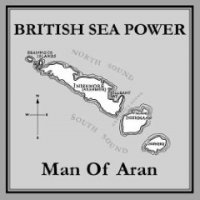 The original 76 minute film has been released on DVD with a contemporary soundtrack added by the appropriately named indie-rock band British Sea Power who now provide a dramatic, largely instrumental accompaniment (guiatrs, piano, cello etc) which similarly evokes space, dark clouds gathering and huge swells of sound to mirror Flaherty's memorable images.
The film comes with a stand alone CD of the music (which should appeal to fans of Explosions in the Sky, Joy Division, early Cure etc) but it is the beautifully film and music combination on the DVD which is the attraction.
Flaherty's Man of Aran may be a triumph of artifice and art over realism, but it is still a moving (and occasionally unintentionally amusing) film.