Graham Reid | | 1 min read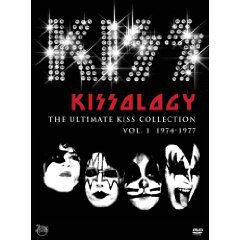 It goes without saying that if Kiss hadn't existed then a 14-year old Japanese boy with a manga fixation would have invented them. He might have writen better songs for them as this rather too wide DVD live collection (three discs, over seven hours in total, seven versions of Black Diamond!) reminds you.
Take away the make-up, platform boots and fire-breathing, and Kiss were a rather plodding riffing band in their early days which this collection covers in far too much detail.
I'd always had a soft spot for them, right up until I saw them live in the late Eighties and thought after the first five minutes that was all I might have needed. They just became increasingly dull and no amount of camp posing by Paul Stanley or tongue-wagging and blood dripping by Gene Simmons could change that.
Which makes this collection (which starts when the make-up and costuming was very primitive and Simmons was a tall, skinny guy) a real test of endurance -- which I have to say I failed with flying colours. I can't tell you what is on the second disc let alone the third "bonus" disc.
The best moment on the first one comes when Simmons in full make-up and with bat wings is a guest on the Mike Douglas Show in '74. Despite his best efforts at outrage (just being there, comments of vampiric nature, unconvincingly saying he is "evil incarnate") one of the other guests -- a middle-aged comedienne, Totie Fields I am told -- isn't impressed and gets his number immediately. "He's probably just a nice Jewish boy from Queens", she says.
There is other non-concert footage scattered about, but I leave you to discover it for yourself if you are so inclined.
I believe this set originally came out in 2006 but someone has seen fit to release it now. Maybe they are touring again?
If so you can count me out. I'm starting to prefer the merchandising and marketing much more than the music and make-up.