Graham Reid | | <1 min read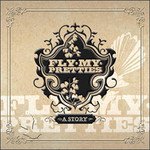 The short explanation of this concept album and handsome package (a CD, a DVD with variations on the live concert and bonus features such as an animated version of A Story, plus a booklet) is that it is an expansion of the previous two FMP albums with new songs taken from their live shows (which has a kid's story narrative woven throughout on the DVD).
So you can just play the CD and enjoy the way this large group weave their way through pastorial folk, blues-soul, reggae and so on; or you can flip in the DVD and chose an option which includes one where Dick Weir reads the story between the songs, or watch the animated version. Or just watch the live clips.
And while you do any of that you can flip the pages in the booklet to read the story or look at "the cast" which includes Barnaby Weir, Anna Coddington, LA Mitchell, Lisa Tomlins, Paul McLaney, Riki Gooch . . . A real who's who of New Zealand music.
This is astonishingly ambitious project in the current economic climate, but as a value-for-money item it can't be faulted, and the music touches all aspects of the sounds which Kiwi audiences embrace.
And it is great see Dick Weir (Barnaby's father) out there again enjoying himself as the story-teller which many remember him as from his days on television.
A rare and cherishable item.