Graham Reid | | 1 min read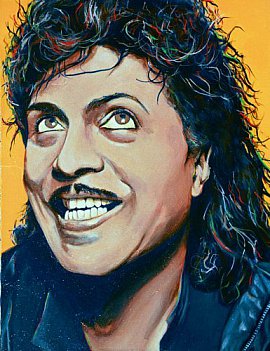 What adjectives can you apply to this 80 minute concert film? Exciting, essential, hilarious, important, historic . . .?
All of those, for sure.
Since its heyday, rebellious and raw rock'n'roll of the Fifites has undergone periodic revivals (around the time of Lady Madonna, the early Seventies, late Seventies again with the Stray Cats and so on) but when the greats of music such as Little Richard, Chuck Berry, Jerry Lee Lewis, Bo Diddley and others performed at Wembley Stadium in August 1972 there was also a rare conjunction of generations and hair styles.
Amidst the post-hippie longhairs of the day were Teddy Boys with massive quiffs, drape jackets and brothel creepers, fans in their 40s who had been there the first time around, and the curious.
The Teds combed their greased back hair, girls took their tank tops off and on the stage a blinding array of talent (then still enthusiastic enough to be more than going through the motions) delivered one of the most exciting concerts ever filmed.
And the filming is, initially, a wee bit ragged.
But with dozens of cameras in the audience and around the stage the whole event looks and feels explosive: from the long forgotten Heinz and coffin-shakin' Screaming Lord Sutch (with his stripper called Alice Cooper) through Bo Diddley, a fiery Jerry Lee Lewis (playing piano with his boots), Bill Haley and the Comets (in remarkably fine form and not looking as foolish as we might believe) to the flamboyant Little Richard with hair three storeys high, and closing with a long, raging set by Chuck Berry (who loses the power but never his salacious grin).
Mick Jagger gets interviewed, backstage a bare-chested Little Richard disses Jerry Lee to the camera (a steely-eyed Jerry Lee naturally has something to say in return), outside the crowd goes wild, the cameras concentrates on girls' arses and more Teds doing their hair or dancing, old ambulance oficers look on bewildered, the Teds dance and comb their hair some more, and a woman selling t-shirts says "rock'n'roll never went away".
On the day, she's was right.
Woodstock may have grabbed the headlines lately -- but here's a concert film that equally caprtured a rare moment in music history.
Absolutely and unquestionably "essential".